Your resume is perhaps your most important asset if you are on the job hunt. Creating an effective one can land you a great job, and that's easier to do when you have an example. Our selection of accounting and finance resume templates will help you craft the perfect resume and boost your chances of success.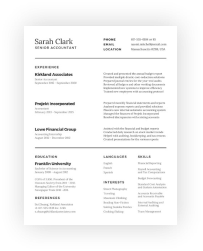 Free Accounting and Finance Resume Templates for Industry Professionals
See our collection of resume templates by and for accounting and finance professionals.
Find the Perfect Accounting and Finance Resume Templates
The accounting and finance industry supports the economic infrastructure of the country. As such, this sector demands that its professionals be highly skilled, and you need a resume that reflects your competence. The Bureau of Labor Statistics estimates that accountants earn a median pay of $69,350, so it can be a lucrative industry to enter, too. You certainly are not alone if you do not know where to start. That is why we have collected hundreds of accounting and finance resume templates from various positions. Whether you are looking for a job as an investment banker, tax professional, or payroll administrator, nothing is more important that making the right impression with a stellar resume.
Our templates are available to browse for free. You can glean inspiration and ideas from the wealth of templates. Equipped with a stronger resume, you will be more likely to land the job you are aiming for. Whether you are seeking entry-level finance jobs or high-ranking executive positions, you can show potential employers exactly why you are the right candidate for the job. Present them with a polished, professional, and attractive resume by considering these templates.
Additional Accounting and Finance Resources
: This professional organization offers professionals in financial fields support, certifications, and career guidance. It is invaluable for anybody seeking a job in the field of finance.
: Find information on job prospects, salaries, and credentialing for accounting positions.
: A good resume is likely to land you an interview. Prepare for an accounting interview by reviewing these questions you may encounter.