Taking your resume to the next level is not just a best practice. In the next decade, your career could depend on it. Check out our administrative support resume templates for examples inspired by real-world jobs and professional advice tailored specifically to your industry.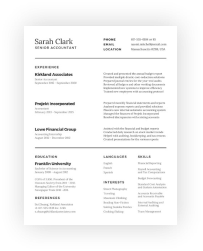 Free Administrative Support Resume Templates for Industry Professionals
Review our templates and industry-relevant advice for administrative support pros.
Find the Perfect Administrative Support Resume Templates
No doubt you've observed how new innovations have shaped the workplace, streamlining and automating a wide range of office tasks. Solving problems, making decisions, planning, and creativity are still essential traits jobs in your field. The Bureau of Labor Statistics speculates that new technologies may reduce the number of administrative and office jobs. These trends could result in little to no new job growth between now and 2026.
What does this mean for you as a jobseeker? You'll need to bring your A-game when competing for new openings. Our administrative support resume templates are here to help you construct a flawless document. We have several versions tailored for office managers, administrative assistants, personal assistants, and several others.
You know that you can wrangle schedules, document information, and manage resources like a boss. You need a resume that puts these qualifications front and center. Hiring managers will also judge your document's structure and language usage. Our real-world examples, industry-tailored advice, and formatting recommendations can help you. Use these tools to craft and polish your version to perfection.
Additional Popular Administrative Support Resume Templates
These are just a few of the administrative support resume templates we offer. We have many more real-world examples from which to choose. Check out more tips and specialized advice for other professions in your industry. We also show you how to format, compose compelling content, and polish your document.
Additional Administrative Support Resources
: This branch of the United States Department of Labor keeps current statistics about labor market conditions. It also provides information for each industry, including how to prepare for specific types of careers and expected job growth for each profession. Check out the BLS's data and projections for administrative support professionals.
: This databank of vocational information offers detailed descriptions for many administrative support jobs.
: This organization aims to help administrative professionals learn, develop, and succeed by offering resources, seminars, conferences, and more.