Employers looking for a data entry and word processing professional zero in on qualifications such as meticulous attention to detail. Therefore, you want to make sure your resume convincingly displays these qualities. You also need to list technical skills such as typing speed and software proficiencies.
Following the principle of showing instead of telling, our data entry and word processing resume templates demonstrate top ways to implement the writing advice you read. Learn how to polish your phrasing, select the right information, and personalize your document for each employer. This way, you increase the chances of getting the job you want.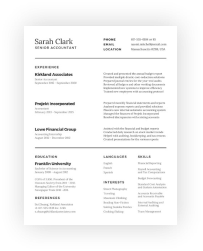 Free Administrative Support Resume Templates for Industry Professionals
Browse templates and job-specific examples of professional administrative support resumes.
How To Mention Your Data Entry and Word Processing Experience
Various employers may have widely different expectations for data entry and word processing candidates. Mirror the language of the job description to showcase how you can meet the employer's needs. Using strong action words can boost your work experience descriptions.
Take a look at our data entry and word processing resume templates for some examples of good experience descriptions. Here are some sample entries to start you off:
• Prioritize data entry projects based on workplace protocol, supervisor's instructions, and total workload to set up an effective project schedule
• Use medical coding software to enter patient information for billing and recording purposes; review entries to ensure lack of errors
• Maintain quality control through periodic review of entered data to detect errors or processing problems
• Enter documents into computer and check for errors; follow established protocols for flagging and correcting inaccurate entries
• Manage electronic filing system to ensure efficient retrieval and use of files; create easy-to-read user guide
Data Entry and Word Processing Resume Tips
Whatever your background and career goals, some basic writing principles can improve virtually any type of resume. We offer varied data entry and word processing resume templates from new and seasoned professionals alike who work in a range of industries. They use the following approaches to increase effectiveness:
1. Personalize Your Data Entry and Word Processing Resume:
Chances are, your resume will face an ATS before a hiring manager reviews it. Boost the likelihood of passing by including the exact terms you see in the job posting.
2. Write a Powerful Summary Statement:
Busy hiring managers do not take long to decide whether to keep reading or to discard a resume. Help them make the decision you want by packing interest and information into your summary.
3. Use Specific Examples and Experiences:
Tell employers why it would be a good idea to hire you by relating ways in which you have added value to previous companies you worked for. Providing solid numbers enhances your credibility.