According to the Bureau of Labor Statistics, secretaries and administrative assistants may face a declining future job market. With employment opportunities expected to decrease by 5% between now and 2026, it's vital to use any advantage you can to differentiate yourself from other jobseekers.
Your quest for your next career opportunity begins with a polished resume that quickly and effectively makes a compelling case for why you're the best candidate for the job. Use our office assistant resume templates, packed with expert tips and real-world examples, to craft a winning document that markets your skills and qualifications to recruiters.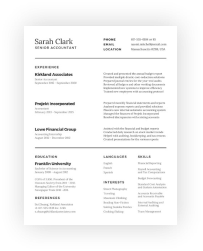 Free Administrative Support Resume Templates for Industry Professionals
Browse templates and job-specific examples of professional administrative support resumes.
How To Mention Your Office Assistant Experience
Office assistants play key roles in many businesses, ensuring that their offices run at peak efficiency while supporting management, administrators, and other employees. Recruiters may give your resume extra scrutiny, since they'll expect it to evidence your attention to detail and excellent communication skills. Our office assistant resume templates demonstrate how to emphasize these important qualifications by using language from the job posting and strong active verbs:
• Track and maintain office, printer, breakroom, and lounge supply inventories, purchasing and restocking items as needed
• Oversee office expenditures, inspect invoices, and submit payments to vendors at or before invoice due dates
• Compose and prepare memos, correspondence to external parties, reports, and internal documentation for meetings, mass distribution, and filing
• Coordinate outbound shipping and the receipt of product deliveries with couriers, shipping, and logistics providers
• Monitor and update manager's calendars, edit departmental schedules, and organize both periodic and ad hoc meetings
Office Assistant Resume Tips
Review our office assistant resume templates for best practices that provide a solid start in creating your document. You can also study other resources such as this office assistant resume example to learn other useful information. Check out these additional tips to help you step up your resume game:
1. Personalize Your Office Assistant Resume:
Cookie-cutter resumes do nothing to advance your career, so avoid sending the same document to multiple recruiters. Instead, craft a different version for every new application. Include important keywords from the job description that match your own skills.
2. Write a Powerful Summary Statement:
What better way to get a hiring manager's attention than with a dynamic summary statement that pitches your professional brand? Write yours as a three-sentence paragraph that sells your most compelling and relevant qualifications.
3. Use Specific Examples and Experiences:
To illustrate how you've added value in your previous jobs, describe standout accomplishments using strong action verbs. If possible, include metrics in your descriptions.