Office managers serve as the lifeblood of their organizations, directing daily operations for their departments or front offices within small businesses. To grab a recruiter's attention, your resume must demonstrate your unique blend of technical proficiencies, communication skills, leadership ability, and resource management experience. Not only that, it must hold a reader's interest for more than the cursory six seconds it takes for most hiring managers to peruse a resume.
Fortunately, our office management resume templates are here to help you. We offer expert advice and examples to show you how to craft a stellar document with targeted, persuasive content.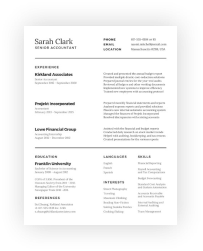 Free Administrative Support Resume Templates for Industry Professionals
Browse templates and job-specific examples of professional administrative support resumes.
How To Mention Your Office Management Experience
After getting a recruiter's attention with a powerful summary statement, you must maintain this momentum by selling your office management experience. Don't forget to incorporate language from the job advertisement and use strong action verbs to pen dynamic descriptions. Our office management resume templates provide guidance on how to describe your expertise:
• Author and distribute both internal company memos and external communications to vendors, clients, and other business connections
• Monitor staff members' calendars, screening incoming appointment requests and scheduling as appropriate
• Compose, edit, and distribute training schedules for new and current sales associates
• Plan and execute company events such as parties, outings, staff meetings, luncheons, and seminars
• Coordinate booth reservations and schedule staff presentations at conventions, trade shows, meetings, and festivals
Office Management Resume Tips
Our office management resume templates provide some useful examples when writing your own, along with other resources such as this office manager resume sample from LiveCareer. At the same time, you can hone your document into a persuasive marketing tool by following these tips.
1. Personalize Your Office Management Resume: Using the same version of your resume every time you apply for a position forfeits a critical opportunity to customize your content. Review the job description and incorporate keywords that line up with your own qualifications.
2. Write a Powerful Summary Statement: When written effectively, summary statements convince a recruiter to continue reading your resume. Craft yours as a marketing pitch, citing your most relevant qualifications and experience to prove that you're the right candidate for the job.
3. Use Specific Examples and Experiences: Back up the claims you presented in your summary statement with descriptive statements of your achievements in your work history section, focusing on the results you gained for previous employers.