Personal assistants help keep individuals, businesses, and organizations on track. With that said, you need a resume illustrating that you have the right skills for completing daily tasks with zeal, efficiency, and reliability. This is easy to do when you choose one of our top-performing personal assistant resume templates.
You can put together a document that makes the case for you being the best choice for the position. Helpful tips from our experts provide you with key details on how to present your accomplishments, skills, and experience in a way that propels you to the top of the interview list.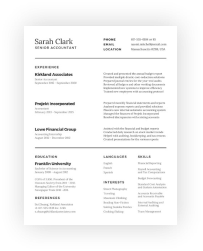 Free Administrative Support Resume Templates for Industry Professionals
Browse templates and job-specific examples of professional administrative support resumes.
How To Mention Your Personal Assistant Experience
A proficient personal assistant handles a variety of administrative tasks. Whether it's screening calls, scheduling meetings, or making travel arrangements, it's important that your resume reflects the skill set and experience you bring to the table. Using power verbs and key industry phrases mentioned in the job listing can turn a document from average to stellar. When you customize one of our personal assistant resume templates, consider including the types of duties employers often look for:
• Conduct periodic check-ins on CEO's multiple residences along with assisting residential staff on property-related issues as needed
• Provide administrative office support, such as helping office staff, taking lunch orders, and answering phones
• Manage non-routine and confidential information, applying a high level of sensitivity, discretion, and confidentiality when sharing this information.
• Maintain a flexible schedule to provide prompt responses to requests, emergencies, and inquiries seven days a week
• Handle complex calendars by using sound judgment in allocating time between meeting logistics and meetings
Personal Assistant Resume Tips
Personal assistant resume templates help you break out of the cookie-cutter application pool. Getting lost in a sea of jobseekers is less likely to happen when you tailor your layout for each job you seek. The tips below provide simple ways to enhance your document.
1. Personalize Your Personal Assistant Resume: It's surprising how some applicants leave off vital information, such as their name and contact details. Makes sure your resume header includes your name, home address, phone number, and professional email address.
2. Write a Powerful Summary Statement: This three-to-five-sentence blurb is like a 30-second elevator pitch. Recruiters spend less than 10 seconds looking at an application, so briefly introduce yourself, describe your value, and point out why you're the top person for the role.
3. Use Specific Examples and Experiences: When it comes to your work history, don't settle for listing duties and responsibilities. Impress the reader by mentioning your achievements and how you used your skills in the workplace.