Art directors need to coordinate their departments to produce exceptional finished products. Your resume needs to show the same attention to detail and organization that goes in to every project you direct. The right art director resume template gives a summary of how you can help the company, spotlights your most attractive qualifications, and sells you as a candidate for the job.
If you're better at organizing people than words, this advice can help you to put your best foot forward on your resume. More than just a few tips, get real-life samples of how to create your best resume.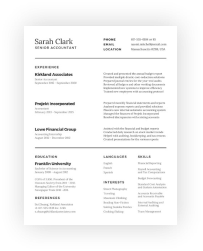 Free Art Fashion And Design Resume Templates for Industry Professionals
Browse templates and job-specific examples of professional art fashion and design resumes.
How To Mention Your Art Director Experience
Because art directors have a high median income with relatively low education requirements, there's stiff competition for most positions. To maximize the value of your past experience, you need to craft a resume that demonstrates your effectiveness as a director. Use action verbs for a more dynamic feel, and be sure to include keywords from the job description. The art director resume templates can give you an idea job description writing, such as:
• Create and direct diverse media types including email advertising, paper ad campaigns, and client websites
• Design interior spaces to produce a visually appealing and welcoming area for clients and guests
• Act as a liaison with other groups and departments to generate cohesive products on all projects
• Organize artists, writers, and graphic designers to work efficiently on individual elements of creations as a whole
• Oversee multiple projects with varied goals and deadlines, ensuring the completion of all jobs on time and under budget
Art Director Resume Tips
A well-written art director resume template gets you well on your way to creating an outstanding resume. Separate yourself from the pack by including these tips to produce a memorable introduction.
1. Personalize Your Art Director Resume:
After reading hundreds of resumes, hiring managers can spot a cookie cutter application when they see one. Take the time to show what makes you unique and how your abilities can benefit the company.
2. Write a Powerful Summary Statement:
Write a concise but detailed introduction of who you are and what you bring to the table. By grabbing employers attention from the beginning, you can receive more focus on the rest of your resume.
3. Use Specific Examples and Experiences:
Vague declarations of being "team-oriented" aren't as effective as illustrating how you produce award-winning team projects. By showing qualifications rather than simply saying you have them, you make them more real for the reader.