No matter how committed you are to your artwork, there's a point in your life where you want to move past the starving artist stereotype. As competition for creative jobs increases, you need to improve the chances that hiring managers will actually take a look at your portfolio.
A well-crafted resume shows that you're a serious artist with an excellent work ethic. If you're better at working than getting hired, these artist resume templates can teach you how to build an effective introduction.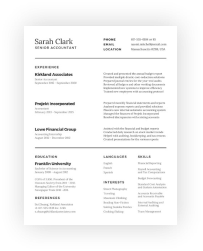 Free Art Fashion And Design Resume Templates for Industry Professionals
Browse templates and job-specific examples of professional art fashion and design resumes.
How To Mention Your Artist Experience
A beautiful concept is useless if you lack the skill in art to execute it. On the same page, your experience as an artist won't be impressive if you can't demonstrate it on the resume. Read our artist resume templates to see how best to describe your work history using action verbs for an extra punch.
• Develop works of art to fit clients' ideas and style
• Collaborate with galleries to create art pieces in conjunction with specified themes
• Create graphics for visually appealing advertisements as part of marketing campaigns
• Support organization staff in designing and arranging artwork to decorate spaces for events
• Host event guests by discussing artwork and providing entertaining conversation
Artist Resume Tips
Use these artist resume templates as a jumping off point for creating a document that's as unique and engaging as your artwork. These tips can help you to develop a resume that piques the interest of hiring managers reading it.
1. Personalize Your Artist Resume: A job description is a wish list of the qualities and skills that make up a company's dream hire. Include the same keywords and phrases used in the job posting in your resume to show how you are this ideal applicant.
2. Write a Powerful Summary Statement: Craft a summary statement that's bold and descriptive. Show how you match the job listing and put your best qualifications up front.
3. Use Specific Examples and Experiences: Great artists show rather than tell their intentions to the audience. Using actual stories from your career can give life to the attributes you want to put forth in your resume.