Preparing a strong resume is an important first step in any job search. It's also a source of stress for many jobseekers, but this doesn't have to be you. Study our software engineering resume templates and worry no more. Written by industry professionals, these templates are full of good ideas and examples for you to follow.
Learn about basic resume-writing practices, then take a look at our templates. Notice the format and structure as well as the content. Have you included similar skills and qualifications and work history? Learn more suggestions on how to write a powerful resume.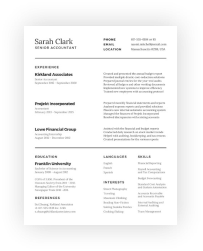 Free Art Fashion And Design Resume Templates for Industry Professionals
Browse templates and job-specific examples of professional art fashion and design resumes.
How To Mention Your Software Engineering Experience
You may have the greatest software engineer experience in the world, but if you don't know how to write it down, it doesn't do you much good. Read through the job description and notice any keywords or industry jargon. Try to include the same language in your work history, along with action verbs. Note these typical examples from software engineering resume templates:
• Collaborate with a team of other engineers and product developers to create code for handling unique data processing events
• Monitor production errors and work with project manager to rectify when necessary
• Create functional and automation test scripts for web, mobile, and enterprise technology
• Compile data and define changes required in new testing requirements, testing equipment, or testing procedures
• Develop, write, test, debug, and implement code using relevant programming languages
Software Engineering Resume Tips
Studying our software engineering resume templates gives you a head start on your resume, but careful attention to detail is necessary for a strong finish. Be sure to proofread all the sections more than once, and pay special attention to grammar. In addition, use the following tips:
1. Personalize Your Software Engineer Resume: Make the most of your skills and work history by tailoring them to the job description. If one job wants JavaScript and you've got JavaScript, put it front and center. If another prefers C/C++, list that one first.
2. Write a Powerful Summary Statement: Take a minute to think about how you want to present yourself. What are your greatest personality traits and your strongest skills? Put them into your professional summary to illustrate who you are and what you can do.
3. Use Specific Examples and Experiences: Be precise in listing your achievements. If you developed a test that significantly reduced bugs and increased the ability to track software defects, say so.