Struggling to write a resume that reflects your talents? Then you need the inspiration and lessons offered by real-world beauty and spa resume templates. These examples demonstrate highly-effective resume strategies that have worked successfully for real professionals like you.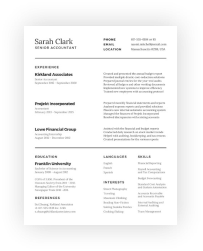 Free Beauty and Spa Resume Templates for Industry Professionals
Gain insight into resume templates that work best for beauty and spa industry pros.
Find the Perfect Beauty and Spa Resume Templates
A single job advertisement can generate anywhere from hundreds to tens of thousands of responses. In that rush of applications, you're just another face in the crowd unless you find constructive, positive ways to make yourself stand out. Your resume is your best way to make a great first impression.
Yet if you're struggling to write a strong submission, you may despair of ever getting noticed. With our industry-specific beauty and spa resume templates and resume builder, you'll find examples of resumes that have worked for real professionals in your field. With the beauty and spa industry showing strong growth according to the Bureau of Labor Statistics, you can't afford to miss out on these opportunities.
Use these templates to learn the best way to customize your resume. With excellent examples that demonstrate everything from format to action-oriented writing, you can learn what makes a document work in your favor. Not only that, but you'll discover how to tailor a resume for your specific industry while also integrating the professional strengths that make you shine. A personal resume stands out from a generic crowd by showing your personal accomplishments.
Additional Popular Beauty and Spa Resume Templates
We've already discussed several great beauty and spa resume templates, but you can take a look at our other examples for more inspiration. These templates can motivate and educate you, and they're great resources for how to build a winning resume. Give them a try before starting your own.
Additional Beauty and Spa Resources
Here are a few more resources you can use to improve your career prospects:

: Resources for hairdressers, hairstylists, and cosmetologists.
: A great look at the future of the beauty and spa market.
: A great outlook on 2018‰'s projections.