The Bureau of Labor Statistics expects job opportunities in the beauty and spa industry to increase by up to 19% between now and 2026. While this is good news for client services professionals, it also means more competition for jobs.
With recruiters facing an ever-increasing onslaught of applications, it's no surprise that most only take around six seconds to read each resume. If a hiring manager must dig through your document to find your experience and credentials, you're not going to get a callback. Use our client services resume templates to learn how to craft a winning resume that impresses employers.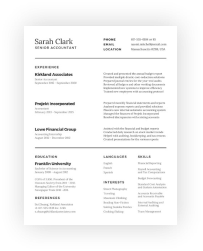 Free Beauty And Spa Resume Templates for Industry Professionals
Browse templates and job-specific examples of professional beauty and spa resumes.
How To Mention Your Client Services Experience
Client services employees support salon operations by providing skin care treatments, waxing, massages, tanning services, and more. After you review our client services resume templates, don't forget to study each employment ad carefully as this resume writing guide suggests. Guided by the language in the job description and using dynamic action verbs, you can write descriptions of your experience such as these:
• Deliver high-quality waxing services to clients while exhibiting a customer-focused and professional attitude
• Educate clients on the spa's services, discuss typical treatment results, and recommend a treatment schedule to target specific concerns
• Monitor bookings, screen incoming reservation requests from clients, and update appointment calendar
• Create customized skin care and beauty product regimens for clients, informing them of specific product benefits
• Document interactions with clients, update individual client profiles, and review these records to provide excellent service and focused recommendations
Client Services Resume Tips
Our client services resume templates are a great reference, showing the kinds of content you want to include in your own version. While you're at it, you can also impress recruiters and get closer to the interview stage by observing a few important best practices.
1. Personalize Your Client Services Resume:
With applicant tracking systems scanning resumes to exclude unqualified candidates, you shouldn't pass up the opportunity to target your content. Look for often-repeated keywords in the job listing and include these in your resume
2. Write a Powerful Summary Statement:
Your task of marketing yourself as the right person for the job starts with crafting a persuasive summary statement. In three sentences, describe the value you offer by mentioning pertinent qualifications and key standout accomplishments.
3. Use Specific Examples and Experiences:
In your work experience section, it's vital that you make your bullet points count. Follow some smart advice from The Muse and discuss awards, impressive metrics, and other achievements that demonstrate how you've made an impact.