At the end of the day, your resume needs to demonstrate your value as an employee. Hairdressers will have a number of unique responsibilities on any given day, and you need to be up to the task. See how to outline your work history and demonstrate your skill set by reviewing our hairstylist and hairdresser resume templates.
Our professional contributors have shown precisely what you need to do to a professional application to make it stand out. The following tips also serve as helpful guidelines to make your application stand out to all kinds of hiring managers.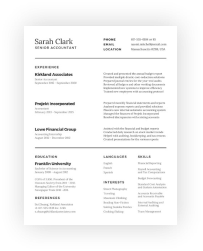 Free Beauty And Spa Resume Templates for Industry Professionals
Browse templates and job-specific examples of professional beauty and spa resumes.
How To Mention Your Hairstylist and Hairdresser Experience
Hairstylists and hairdressers are responsible for cutting, trimming, styling, and coloring customers' hair. Format your work experiences in the same way as the hairstylist and hairdresser resume templates, so hiring managers want to meet with you. You will notice some common themes, such as how all work experiences begin with a compelling verb and how they mirror language typically found in job listings.
• Trim, cut, and shape hair based on instructions given by customer using an array of tools, including razors, trimmers, and scissors
• Tint, dye, or bleach hair using professional brushes and applicators
• Demonstrate and sell professional hair care products based on customers' hair type
• Treat and massage scalp for remedial and hygienic purposes using vibrating equipment
• Recommend therapeutic medication for customers who suffer from chronic scalp conditions
Hairstylist and Hairdresser Resume Tips
You may notice certain patterns as you review the hairstylist and hairdresser resume templates. Many real-world jobseekers have performed the following actions to take their applications to the next level. Do the following to your own resume, too:
1. Personalize Your Hairstylist and Hairdresser Resume:
Hiring managers do not want to read generic applications. They want to read something specifically designed for their companies, so personalize your resume based on the needs of each unique position.
2. Write a Powerful Summary Statement:
Many job recruiters throw away resumes after a few seconds of reading because they can tell the jobseeker does not have the necessary qualifications. Make yours stand out by including the best pieces of information at the top in the summary statement.
3. Use Specific Examples and Experiences:
Show hiring managers what you have done for previous employers by mentioning key details and actual achievements. It will make you stand apart from other applicants who only provide vague statements.