A well-written resume is necessary if you hope to get the position you want. We provide a variety of community and public service resume templates to help you create your own professional document. Check out our templates and tips for writing tailored resumes to help you create your own standout submission.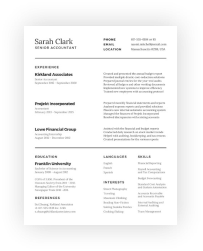 Free Community and Public Service Resume Templates for Industry Professionals
Access hundreds of resume templates to help you create your own public service resume.
Find the Perfect Community and Public Service Resume Templates
Searching for work in community service is admirable and likely to be lucrative as well. Community service positions are on the rise, with mental health counselors and social workers especially in high demand. More jobs mean more people are becoming interested in the field, so you need to stand out from other applicants to get your foot in the door. The best way to shine is to create a high-quality resume that is engaging and informative.
Our community and public service resume templates are an excellent place to start. These user-generated templates cover all types of jobs in the industry, including public health workers and volunteer managers. Our example resumes teach you how to make your experience, skill sets, and education shine by focusing on what recruiters in the public service industry seek most often. Samples are available in a range of designs, so you can easily choose one that keeps your best assets "above the fold." In addition to samples, we provide a variety of writing tips that help you fill out your own document and focus on the most relevant keywords and phrases. Whether you want to show off your skills as a couples' therapist, or you hope to gain a position with your public health experience, we have a resume template to help you land the job you want.
Additional Popular Community and Public Service Resume Templates
Community and public service resume templates are not one-size-fits-all. Luckily, we have plenty of templates created by people with actual experience in the positions for which you want to apply. Browse more resume templates to help you find the inspiration you need to create your own engaging resume.
Additional Community and Public Service Resources
American Mental Health Counselors Association: This organization provides updates on conferences and continuing education opportunities for mental health counselors across the country.

Bureau of Labor Statistics: The BLS provides information on job outlook, career paths, income expectations, and much more for people in the community and public service sectors.

O*Net Online: O*Net Online offers a look at the education, knowledge, skills, and experience required for a variety of career paths in the community service sector.