We have a huge selection of computers and technology resume templates, so you can pick the right one for your job search. You can easily customize the template depending on the specific job, whether you are applying to be a software developer, mobile app developer, or technical support professional.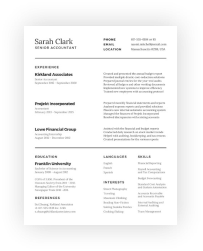 Free Computers and Technology Resume Templates for Industry Professionals
Check out templates for the computers and technology industry to enhance your job hunt.
Find the Perfect Computers and Technology Resume Templates
The computers and technology industry is growing at a rapid pace. Over the next few years, the demand for jobs in this industry will grow by 13%. This will happen because of developments in storing big data, cloud computing, and information security.
If you are starting a job hunt, we have computers and technology resume templates for many positions in this industry. Written by professionals, these templates make an excellent starting point for your resume. Start off the process by going over different samples and selecting the design you like best. In every resume section, you can learn more about how to impress employers. You can also discover which skills you should include.
Our writing tools and templates can help you not only format this document, but fill in the information. This way, you submit a professional document to employers that makes a lasting impression.
Overall, we can help you draft a resume that emphasizes your technological skills. Most computer and technology professionals need technical skills and familiarity with different types of software. Whatever job you are looking for, we can help you craft a resume that helps you get a new job.
Additional Computers and Technology Resources
: This resource gives information about industry growth rates, job outlook, working conditions, and more.
: This helpful online resource posts salary information, statistics about specific job growth expectations, and detailed information about responsibilities for each position.
: Find out more about current trends in computer technology. You can also browse articles on consumer technology.