When searching for a construction management position, you need to focus on your resume. This document's purpose is to demonstrate your abilities to work quickly and effectively, and to communicate all the attributes which qualify you for the position. Our construction management resume templates can help you understand the best way to create a resume that catches the attention of hiring managers. A strong resume does more than just include good information. It has to have an accessible format and good organization as well, or else the reader will never even see the information you worked so hard on.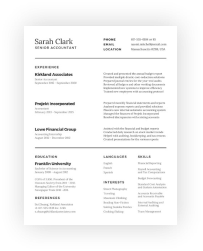 Free Construction Resume Templates for Industry Professionals
Browse templates and job-specific examples of professional construction resumes.
How To Mention Your Construction Management Experience
The experience section is one of the most important parts of your resume, but it also needs to have the right format to be as effective as possible. As you see from our construction management resume templates, you should use strong action verbs to communicate your abilities clearly and effectively.
• Oversee all construction operations, ensuring all construction laborers work quickly, safely, and correctly at all times
• Conduct quality tests to ensure that all construction work meets the correct structure and safety standards
• Complete construction reports that detail laborer performance, efficiency, progress, and any issues that may arise
• Create the schedule for all construction laborers, taking labor needs, cost, and individual talent into consideration
• Manage the progress of construction to meet deadlines and limit daily labor costs as much as possible
Construction Management Resume Tips
So what can you do specifically to strengthen your resume as much as possible? You should always make a point to follow these steps for every resume you write. Remember that it is a good idea to slightly alter your resume for each new job opening as well, and you should follow our construction management resume templates each time.
1. Personalize Your Construction Management Resume:
First, take a look at the job description for the job you desire and implement similar language and aspects that appear in the job description.
2. Write a Powerful Summary Statement:
You need a strong summary statement because this is what forms your first impression. We can help you understand what makes a good construction management summary.
3. Use Specific Examples and Experiences:
Using real metrics and examples is what makes your resume credible. It is also a good opportunity to describe specific attributes that make you ideal for the position.