The work of a glazier requires attention to detail and the ability to organize multiple tasks as you protect your safety while on, sometimes precarious, high perches. Your resume should put those skills clearly on display. With the guidance of a successful glazier resume template, create a document that shines attention on your practical skills and professionalism. Draw attention to your work experience and illuminate those talents that make you the best candidate for the job.
Add the finishing touches after strategic editing and tips from our professional contributors. Your finished resume can reflect your best qualities, skillfully capturing the attention of hiring managers.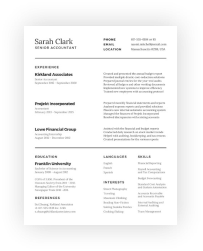 Free Construction Resume Templates for Industry Professionals
Browse templates and job-specific examples of professional construction resumes.
How To Mention Your Glazier Experience
Glaziers work with many types of glass and tools used for removing, cutting, installing, and creating beautiful glassworks, and it's vital that your resume showcases those skills. How you describe your experience and skills is just as important as including those on your document. While reflecting the language from the job listing and looking to a glazier resume template for guidance, use strong action words and specifics to describe your abilities.
• Inspect materials to ensure accurate sizes and style, preventing the use of damaged or flawed products
• Load materials and tools on vehicles, including safety equipment and documents relevant to the day's jobs
• Communicate with office personnel, team members, and customers regarding appointments, quality of work, and customer concerns
• Install products and complete projects as described in work orders, troubleshooting issues as they arise, and resolving problems that occur on-site
• Ensure job-site safety and regulation compliance, filling out documentation for incomplete work due to safety issues and coordinating further actions
Glazier Resume Tips
Our glazier resume templates provide a great starting point for your own resume. Quickly personalize each template with your facts and impressive achievements, and boost the impact of your page with specific facts and figures. Use the following tips to take your document to the next level:
1. Personalize Your Glazier Resume:
A strong foundation is the first step in creating a successful resume, but for real results, you must address the specifics of the job listing. Look through the posting for emphasized terms, and include those same words and phrases in each resume you write.
2. Write a Powerful Summary Statement:
Your document has a short window to impress recruiters. If you can't capture their attention within about six seconds, you may miss out on interviews. Create an impressive summary statement that contains your most impressive skills and accomplishments.
3. Use Specific Examples and Experiences:
Make it easy for hiring managers to find your most impressive work. Include descriptions of your best projects or links to pictures of completed work. This is proof of your artistic and professional abilities and improves your chances of getting interviews and job offers.