If you want to get a job, your resume has to reflect your most impressive experiences and skills in an efficient way. Hiring managers want to know the person they interview has the training, physical stamina, and knowledge to properly work with metal, yet they only spend six seconds reading a resume. You need to turn to helpful advice to make sure you craft a resume that makes it plain you're perfect for the job.
Use our metal worker resume templates and accompanying writing tips to get started building a useful document. With industry-proven inspiration, you have the tools needed to create a strong resume.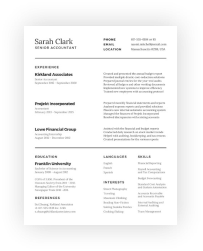 Free Construction Resume Templates for Industry Professionals
Browse templates and job-specific examples of professional construction resumes.
How To Mention Your Metal Worker Experience
You know your experience needs to be the focus for a large portion of your resume. What you might not realize is that how you write this section can affect an employer's opinion of you. You need to use industry-specific action verbs and engaging language that mirrors the job ad to make your fit for the job clear, as many of the metal worker resume templates do.
• Repair leaks in the sheet metal of ventilation systems to improve system energy efficiency
• Use computer-aided drafting and design to make industry-specific metal sheets and ductwork
• Install metal roofing according to building specifications using screws, rivets, or bolts
• Adjust sheet metal ducts of HVAC systems to give system proper airflow
• Read blueprints to measure and mark reference lines and dimensions for specialized projects
Metal Worker Resume Tips
Sending in a strong resume makes you a better candidate. You can quickly learn what type of language and format to use by reading through the many metal worker resume templates found here. You can also use the following tips to help you customize your document.
1. Personalize Your Metal Worker Resume:
Employers don't want to see a cookie-cutter document. Instead, you should focus on projects you completed and goals you reached that other candidates can't mention as you point out industry-specific skills.
2. Write a Powerful Summary Statement:
You have little time to catch the attention of an employer. Your opening paragraph should point out your biggest achievements and skills to ensure that you put your best foot forward.
3. Use Specific Examples and Experiences:
Glossing over your experience with generic phrasing can make hiring managers lose interest. Show off how you can benefit an employer by mentioning skills you need for the job at hand. Read through the job description for inspiration.