A successful career in the dentistry field is one eye-catching job application away. Our dental resume templates make it easy to create a create a standout personalized resume. Designed by industry experts, these professional resources provide the guidance you need to create a resume tailored to a specific job.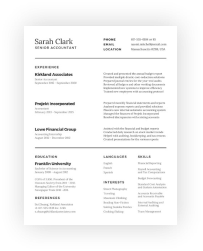 Free Dental Resume Templates for Industry Professionals
Browse our templates to find job-specific examples for careers in the dental industry.
Find the Perfect Dental Resume Templates
The need for workers in all areas of healthcare is growing. According to the Bureau of Labor Statistics, occupations in healthcare will see an increase of 18% by 2026, and projected job growth in the dental field is as much as 20% by 2026.
This is good news for people looking for careers in dentistry, but to make the most of these job opportunities, you need to have a strong, professional dental resume. It is important to include relevant skills, education, and experience showing you are a good candidate for the position. Our dental resume templates allow you to tailor your document to the specific job you're applying for.
The templates guide you through the process of creating personalized resumes for jobs as dental hygienists, dental assistants, dentists, and other positions in dentistry. We give examples of how to design and format your document, along with advice on tailoring your resume to a specific job. Learn how to show off your people, business, and dental skills in the best way possible. Whatever dentistry position you're applying for, we have a resume template to help you get the job you want.
Dental Hygienist Resume Template
The news is good for people looking for jobs as dental hygienists. Job growth in this field is could be as much as 20% by 2026. Increased job growth may not mean an increased chance of getting hired, however, but a professional dental hygienist resume can help. Be sure to emphasize appropriate qualities like communication, computer software, and interpersonal skills along with relevant education, licenses, and experience. Use our dental resume templates to craft a document that showcases your skills and abilities in a clear, concise, and professional way. Using templates lets you put your best resume foot forward.
Dental Assistant Resume Template
The job outlook for dental assistants is very good. Projected growth for this field is more than 15% over the next 7 years. Dental practices are looking for professional applicants who have the right skills and education to perform the job. As you tailor your resume to the specific job, remember to use keywords and phrases from the job posting to clearly show that your skills match those the employer wants. Our dental resume templates can help by illustrating what a professional dental assistance resume looks like and what to include in it.
Dentist Resume Template
An aging population and an increase in research that links oral health to overall health has led to a projected job growth for dentists of 19% by 2026. Our dental resume templates demonstrate how to draw attention to your training and skills. The education section shows the best way to present education, licenses, and certifications, while the skills section gives suggestions on what to include in bullet points when listing both hard and soft skills. Applicable hard skills include knowledge of business software, dental equipment, and dental procedures. Soft skills include critical thinking, problem-solving, active listening, and communication.
Additional Dental Resources
is a source of extensive information on job requirements and other occupational information for all types of careers, including those in the dental field. The site allows you to choose your specific dental career path to learn more about standard qualifications, including educational requirements.
is part of the United States Department of Labor. The Occupational Employment Statistics section of this website provides national occupational employment and wage estimates for all careers. For the dental industry, select any dental career field from the dropdown menu to learn more about the future of your chosen career.
is the official web page of the American Dental Association. As the leading advocate for oral health in America, the ADA is an excellent resource. Information you can find on this site includes general dentistry, dental specialties, dental team careers, alternative dental careers, and accredited dental schools.