Create an attention-grabbing resume with our extensive collection of education and training resume templates. No matter where you want to go in the field of public education, corporate training, adult basic education, or higher learning, we've got a real-life resume template to help you land an interview.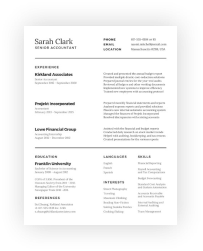 Free Education and Training Resume Templates for Industry Professionals
Check out these templates and real-life examples of education and training resumes.
Find the Perfect Education and Training Resume Templates
Writing a strong resume is the best way to get noticed by a recruiter or hiring manager. As you create your job application documents, it's important to customize your resume to the specific job you want. This page and its education and training resume templates will help you figure out what skills and experience you need in this field. They will also help you decide which of your skills you should include on your resume.
Experts predict that the field of education and training will grow by nearly 900,000 jobs by the year 2026. It's a good field to be in, but to stand up to the competition you need a stellar resume.
These templates are from real professionals in the education and training industry and based on real job titles. We have examples of resumes for school teachers at all levels, counselors, vocational instructors, life coaches, and more. No matter where you fit in the world of education and training, whether you want to teach children or adults in formal or informal settings, the information and examples here can help you write the perfect resume.
Additional Popular Education and Training Resume Templates
There are many job openings in the field of education and training beyond the examples offered above. Browse our other education and training resume templates from real-world professionals. You'll get a feel for what other job opportunities are out there and how to write an attention-grabbing resume.
Additional Education and Training Resources
At the

website, you can search an extensive list of education-related careers to see what qualifications and skills you need. You'll also see typical salaries for each occupation.
breaks down different occupations into tasks, responsibilities, skills, required education, and so on. The searchable database has lots of options in every field.
The comprehensive list of education, training, and library occupations tells you about average salaries for various jobs. It also predicts job growth 10 years at a time.