If you aspire to counsel students and other individuals seeking employment, your resume should indicate your expertise in this area. Start by summing up the extent of your experience and major qualifications. You should then provide employers with a list of relevant skills as well as descriptions of past positions and your educational background.
An outstanding resume will showcase your qualifications to assist others seeking occupational guidance. We provide pointers on how to present your experience and make your application more compelling. You may also benefit from looking at real-world examples from our collection of career counselor resume templates.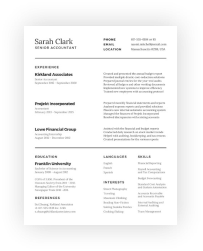 Free Education And Training Resume Templates for Industry Professionals
Browse templates and job-specific examples of professional education and training resumes.
How To Mention Your Career Counselor Experience
When seeking work as a professional career counselor, you should describe your previous experience in ways that will make a positive impression on prospective employers. Use keywords and phrases that correspond to the requirements of the position you are seeking. Emphasize your abilities by using action words, as shown in the sample responsibilities below and the work history sections of our career counselor resume templates.
• Help students and other jobseekers find employment in areas suited to their backgrounds and preferences
• Perform evaluations to determine each counselee's individual and professional strengths and provide direction toward suitable employment
• Maintain a network of connections with employers and recruiters to facilitate job placement for counselees
• Provide guidance to help clients overcome issues that could impede their personal or career development
• Organize and lead informational sessions on career matching and guidelines for pursuing a job search
Career Counselor Resume Tips
There are several ways to improve the quality of your career counselor resume. Early sections, including the summary statement and your list of skills, should catch the eye of prospective employers. Keep the work history and education sections informative and easy to skim, as shown in our career counselor resume templates.
1. Personalize Your Career Counselor Resume:
Sum up the extent of your experience and specific strengths to add a personal touch to your professional document. Use significant keywords from a job description wherever possible.
2. Write a Powerful Summary Statement:
Employers only spend about six seconds skimming each resume. Grab their attention with a strong summary statement that covers your most compelling qualifications for the particular position you are seeking.
3. Use Specific Examples and Experiences:
Try to be as specific as possible when describing your skills, as well as your achievements and responsibilities in past positions. Use metrics or statistics that demonstrate your ability to succeed.