Colleges and universities employ a variety of professionals across many fields. If you want to work in an academic environment, your resume should show that you are the right candidate for a particular position. We provide guidance on presenting your experience and making a positive impression on prospective employers.
You may find it easier to write a resume after looking over materials from real-world jobseekers. Our college and university resume templates cover a range of careers at institutions of higher education. Regardless of your background or specialization, you can write a better resume that will help you get hired.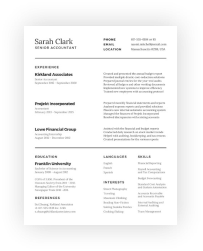 Free Education And Training Resume Templates for Industry Professionals
Browse templates and job-specific examples of professional education and training resumes.
How To Mention Your College and University Experience
Describe previous work experience in ways that satisfy the requirements for a college or university position. Try to emphasize transferrable skills, especially if you are moving into higher education after working in a different field. Use keywords and phrases from the job description and action words wherever possible. See the following sample responsibilities in addition to the experience sections on our college and university resume templates.
• Interface between student, faculty, and staff populations to promote an open and positive institutional culture
• Lead tours and arrange meetings to make the university environment more welcoming for incoming students
• Schedule events and public meetings to spread information and promote involvement in the campus environment
• Guide young adults in achieving independence and making personal and professional plans for the future
• Provide conflict resolution and mediation services to promote the resolution of difficulties through mutual deliberation
College and University Resume Tips
Devote time to improving the aspects of your resume that are most important to employers. From your professional summary to your list of skills and descriptions of past positions, there are several ways to customize your document. See our college and university resume templates for practical examples of these tips.
1. Personalize Your College and University Resume:
Your document should reflect your unique abilities as well as the requirements of the job you are seeking. Aim to balance these aspects of your professional profile in each section.
2. Write a Powerful Summary Statement:
The professional summary section of your resume is your first chance to make a positive impression. Make sure this statement explains why you are a great candidate for a college or university.
3. Use Specific Examples and Experiences:
Be precise about your accomplishments to make your resume stand out among the competition for a college or university position. Use relevant keywords and metrics to make a positive impression.