When you work with young children, you need to ensure they learn necessary physical and social skills and help them achieve the intellectual development that will be the foundation for their education. This is an important job and the average resume only allows you one page to show why you excel at it.
Don't let this task daunt you — an early childhood development resume template can help you display the skills and expertise that make you the best person for the job. With a little help, you can easily learn how to organize this document and make it stand out.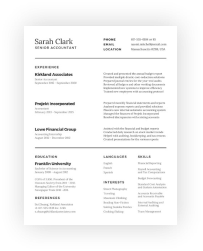 Free Education And Training Resume Templates for Industry Professionals
Browse templates and job-specific examples of professional education and training resumes.
How To Mention Your Early Childhood Development Experience
Early childhood teachers play an important role in a toddler's development. While you read stories to stimulate the children's creativity and teach them shapes and colors, you also help them learn how to behave in a classroom. Wording each of these responsibilities matters more than you might think. Look at an early childhood development resume template for examples of how to use active language and pull phrasing from the job posting to help communicate that you understand the requirements of the job.
• Create and implement educational programs for preschool-aged children
• Utilize diverse educational techniques to help children master new material
• Guide children through social interactions and proper classroom behavior and encourage self-esteem
• Keep classroom clean and safe for children
• Record each child's progress and communicate with parents to understand a child's strengths
Early Childhood Development Resume Tips
An early childhood development resume template can provide a solid foundation for this important document. However, a few extra steps can make your resume stand out from the competition and help ensure it is always ready for every job application.
1. Personalize Your Early Childhood Development Resume:
Different positions may have different requirements, so it's important to tailor your resume for each job listing. Include words and phrases from the job posting so employers can see you have the experience they're looking for. Personalizing your resume also ensures this document will match your cover letter.
2. Write a Powerful Summary Statement:
This statement explains your key characteristics and qualifications. Use this to show you have the skills employers need.
3. Use Specific Examples and Experiences:
Your personal experience on the job can help demonstrate that you're a great candidate. Include your accomplishments to show how you have had a positive impact in past jobs.