Are you a jobseeker pursuing a career in language instruction? If so, you need to put together the best resume you can to really impress the hiring managers. Of course, many jobseekers are not exactly sure where to begin with their resumes. With the expectations so high, it can be an intimidating process.
Begin by reviewing our language instruction resume templates. This will help you better understand what to include, how to organize the document, and how you can communicate that you are an effective and quick worker. We are always committed to helping you get the job you want.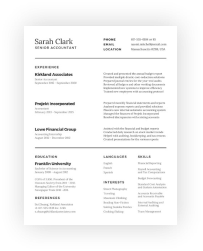 Free Education And Training Resume Templates for Industry Professionals
Browse templates and job-specific examples of professional education and training resumes.
How To Mention Your Language Instruction Experience
In a resume, the experience section is almost always the most important. In addition to the content, you need to carefully consider the organization and format of this information. Our language instruction resume templates demonstrate strong experience sections, complete with good action verbs in each bullet point. Here are some additional examples:
• Teach students the Spanish and German languages accurately and effectively, developing and following the curriculum closely
• Interact with students in the foreign language to encourage fluency and a functional understanding of the language
• Plan and lead activities outside of class to help students further develop their language skills
• Implement a wide range of learning strategies to assist students with the language-learning process
• Grade all student assignments promptly, accurately recording students' grades and answering all questions about the assignments
Language Instruction Resume Tips
After reading our language instruction resume templates and seeing how your own resume should look, you are now ready to begin writing yourself. But do you know where you should get started? To help you with the writing process, be sure to keep the following list of steps in mind.
1. Personalize Your Language Instruction Resume:
A personalized resume is almost always stronger than a generic one. Take a look at the job description. Then, you should include the same language in your resume.
2. Write a Powerful Summary Statement:
Carefully think about how you want to represent yourself in your summary statement. Remember that this is the first thing employers see when they begin reading your resume.
3. Use Specific Examples and Experiences:
Real examples from your previous working experiences greatly strengthen your resume. We recommend including actual metrics to give readers a better idea of what you are capable of.