A life coach needs to have good interpersonal and listening skills as well as the ability to solve problems and motivate. When writing your resume, you need to showcase these abilities in a way that demonstrates you are a good candidate for the job. Looking at other resume examples can be very helpful when wondering what to write and how to organize it.
We have a number of life coach resume templates from real applicants that you can reference. These, along with the following advice and tips, will serve as a guide when you sit down to compose your own document.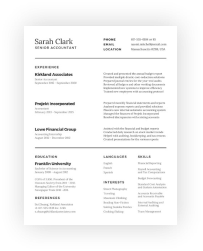 Free Education And Training Resume Templates for Industry Professionals
Browse templates and job-specific examples of professional education and training resumes.
How To Mention Your Life Coach Experience
The hiring manager wants to know how you perform on a daily basis, but you can skip describing the routine duties. Instead, focus on your accomplishments, and discuss your experience using language from the job ad. Use verbs to demonstrate how you solve problems and add benefit to the company. The life coach resume templates show how to do this. Use the following examples as well:
• Consult with clients and listen to their needs and challenges; recommend solutions and steps to reach desired goals
• Build relationships with clients and provide crisis intervention and emotional support when it is necessary
• Identify helpful activities and community resources pertaining to the interests and needs of the clients
• Provide assessments to determine skills and abilities for job transition; assist with resume writing and interview preparedness
• Support individuals with disabilities on their life-skill goals; maintain relationships with families and schools to monitor progress
Life Coach Resume Tips
Writing a compelling resume can seem daunting, but it is not so scary when you break it down into a few main points. Use the life coach resume templates to guide your organization and give you ideas as to the information you should include. Follow these tips to strengthen your document:
1. Personalize Your Life Coach Resume:
The job description can help you a lot, as it outlines what the employer is looking for. Once you have written your first draft, incorporate language from the job ad to personalize each resume.
2. Write a Powerful Summary Statement:
It is important to catch the attention of the hiring manager right away. Because the summary statement is first, make sure it is powerful. Showcase your most relevant skills to demonstrate your value.
3. Use Specific Examples and Experience:
It can be very effective to use facts and figures in your work experience section. This shows the reader how you can be successful. Use specific examples related to your most significant duties.