A well-written and appealing principal and director resume will convey your ability to do the job efficiently and effectively. Hiring managers have countless resumes to wade through, so you have only a short amount of time to make a good first impression. Many hiring managers do not have time to read all the resumes they receive, and only candidates with the most attractive resumes will receive interview offers.
This may sound unnerving, but by referencing our principal and director resume templates, you can learn how to write a real-world resume. Our templates will show you what human resources hiring managers expect.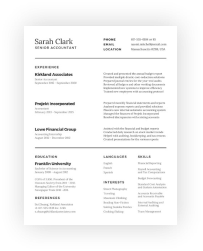 Free Education And Training Resume Templates for Industry Professionals
Browse templates and job-specific examples of professional education and training resumes.
How To Mention Your Principal and Director Experience
Principals and directors oversee the day-to-day operations of public and private schools. When writing a resume for such a role, you must showcase your ability to excel in an administrative position using active and attention-grabbing language. Our real-world principal and director resume templates can show you how to achieve this.
• Manage school budget, and ensure teachers and students have adequate teaching and learning supplies and resources
• Plan and oversee school functions, events, and activities for students, teachers, parents, and other administrative staff
• Meet with parents and guardians to discuss the emotional, behavioral, and intellectual development of certain students
• Help teachers prepare for standardized tests, and ensure students are properly preparing for testing throughout the year
• Organize and direct regular staff meetings and workshops discussing important school-related issues and department goals
Principal and Director Resume Tips
Our principal and director resume templates
can provide you with a solid writing foundation and show you what an effective and eye-catching resume should look like. However, you can also greatly improve the quality of your resume and capture the attention of any hiring manager using these simple tips:
1. Personalize Your Principal and Director Resume:
To craft a strong and compelling resume, you must personalize your resume to reflect your own talents and abilities. Incorporate important keywords from the job posting into each section of your resume.
2. Write a Powerful Summary Statement:
Instead of an objective, try writing a summary detailing your professional qualifications and background. Most hiring managers will see the summary section first, so be sure it is concise and informative.
3. Use Specific Examples and Experiences:
Hiring managers will enjoy reading personal stories that demonstrate your ability to succeed in a particular role. They do not want to hire someone who is not a good fit for the job, so you must to show them you are the candidate they need.