A quality resume should reflect your skills and work experiences in a way that shows you're the best candidate for a particular position. Whether you're applying for a retail, medical, or technical job, you should take the time to edit and format your document. This approach can drastically increase your chances of impressing a hiring manager.
Our professional development resume templates make the process easy. Simply fill in your information step-by-step to create a winning document in minutes. Each section is pre-formatted with correct spacing and margins so you don't have to struggle to fit all your information onto one page.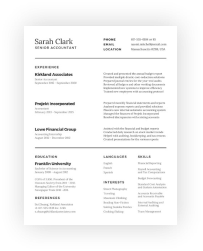 Free Education And Training Resume Templates for Industry Professionals
Browse templates and job-specific examples of professional education and training resumes.
How To Mention Your Professional Development Experience
Hiring managers appreciate resumes that are concise and engaging. Jobseekers can spice up their credentials by paying close attention to how they present their information. A couple of ways to do this are to mirror the language in the job ad and begin your sentences with a strong action verb. For example, a prospective real estate development professional might include the following on his or her resume:
• Explain how to update property listings to present information on houses and apartments for sale
• Meet with clients to discuss career goals
• Give presentations on real estate contracts and sale closings
• Coach clients on how to network with industry professionals within the real estate community
• Host educational conferences on how to increase sales and interpersonal skills
Our professional development resume templates can help you make your accomplishments stand out. By carefully choosing your wording, you can rise above other applicants and land a coveted job interview.
Professional Development Resume Tips
Professional development resume templates are a great starting point for jobseekers in any industry. Entry-level and experienced candidates alike should understand how to make their documents easy-to-read yet visually stunning. If you're in the process of editing your resume to perfection, keep the following tips in mind:
1. Personalize Your Professional Development Resume:
Rather than writing one resume and submitting it to several positions, take the time to customize each individual document. Include information from the job posting or company website to tailor it to a recruiter's expectations.
2. Write a Powerful Summary Statement:
A summary statement is typically at the top of a page and serves as an introduction to your best skills and qualifications. Keep it between three and five sentences or bullet points.
3. Use Specific Examples and Experiences:
Recruiters don't want to know that you succeeded, but how you succeeded. Include metrics such as how many people you managed, the average amount of sales per quarter, or how many awards you have won.