To thrive in a school administration career, you need to craft a compelling resume. Since most hiring managers spend between five and seven seconds glancing at documents, it is imperative that your best qualifications shine through. Save yourself the hassle of excessive editing and formatting by using our school administration resume templates for assistance.
In a matter of minutes, you can polish your resume to meet the expectations of recruiters. Simply fill out your information step-by-step to ensure that your most vital credentials stand out. All the sections are pre-formatted, so you won't have to worry about spacing and margins.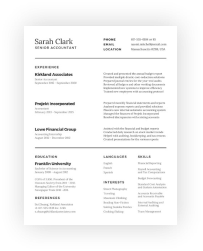 Free Education And Training Resume Templates for Industry Professionals
Browse templates and job-specific examples of professional education and training resumes.
How To Mention Your School Administration Experience
The way you phrase your skills and qualifications can make or break your chances of getting a job interview. To make your resume easy to read, begin your bullet points or sentences with an action verb. Avoid repetition, and strive to incorporate language from the job description. A school administration resume might include the following information:
• Manage finances and payments for the school
• Recruit and train administrative professionals
• Develop a literacy plan to assist low-performance students and their teachers
• Engage parents by planning school conferences
• Solicit funding and private donations for school programs
A quality resume is the first step toward achieving your career goals. Our school administration resume templates can help take your document to the next level so you can beat the other applicants applying to a position.
School Administration Resume Tips
Whether you're an entry-level or experienced candidate, you must master the art of resume writing to advance your career. School administration resume templates can be enormously helpful; their convenient features can eliminate spelling and grammar errors, as well as assist with writer's block. The following tips can also make your resume more desirable to recruiters:
1. Personalize Your School Administration Resume:
Apart from crisp writing and an easy-to-read layout, tailor your document to the job you're applying to. Pull phrases from the job description to emphasize that you're a good match for a position.
2. Write a Powerful Summary Statement:
A summary statement is a concise paragraph or list describing your best qualities. Many recruiters look to the summary statement before deciding whether to take a closer look at the work history or skill set of a particular candidate.
3. Use Specific Examples and Experiences:
Don't be afraid to include relevant accomplishments. Mention how many people you managed in your teams, awards you won, or performance metrics.