If you want to avoid a seemingly endless job hunt for a new position in a secondary school, you need to prepare for your search by crafting a stellar resume. Similar to how you craft lesson plans to help students understand academic concepts, you need to construct a resume that helps hiring managers understand your ability to efficiently handle the responsibilities of a new role.
Learn how to use your document to get the job you want. Follow our tips and review our library of over 50 secondary school resume templates, submitted by real-world professionals like you, to begin the process.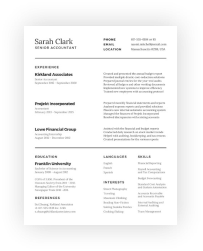 Free Education And Training Resume Templates for Industry Professionals
Browse templates and job-specific examples of professional education and training resumes.
How To Mention Your Secondary School Experience
If you want hiring managers to consider you for an open job, you must wow them with work experience descriptions that incorporate action words and impressive language. With our secondary school resume templates, an in-depth guide to writing your work experience section, and the following examples, you can make each description in this important component of your resume impressive.
• Implement school-approved curriculum to teach secondary school students and prepare them for annual written and verbal assessments
• Develop assignments, quizzes, and tests based on curriculum, and provide grades in a timely manner
• Record and analyze each student's academic progress throughout the year, and give feedback and tutoring opportunities
• Tailor lesson plans according to the needs of every student to help each individual succeed academically
• Monitor students' behavior in classroom and hallways, and administer discipline in accordance with school policies
Secondary School Resume Tips
While our secondary school resume templates can give you ideas on how to write and organize your resume for your industry, it also helps to know a few clear steps you can take to ensure your document is ready to impress. As you write, adhere to the following three guidelines:
1. Personalize Your Secondary School Resume:
Not every secondary school position is the same. For each job advertisement to which you respond, tweak your document so it aligns with that role's description. Use exact keywords from the job listing.
2. Write a Powerful Summary Statement:
Your professional summary communicates to employers why they should hire you. Include in this section your professional title, a few hard and soft skills, and one or two impressive accomplishments.
3. Use Specific Examples and Experience:
Long-winded lists of skills and prior job responsibilities are not as effective as concise descriptions of particular experiences and achievements. Make each specific example more impressive with metrics and dynamic language.