Chances are you already know how to write a resume, but do you know how to write one that jumps off the page and grabs the reader's attention? You will by the time you get through the resources we have available for you.
Our vocational training resume templates, as well as our writing and organization tips and tricks, will help you create a document that is engaging, informative, and professional. The result is a document that is more likely to help you gain interviews and get the job you want in the education and training sector.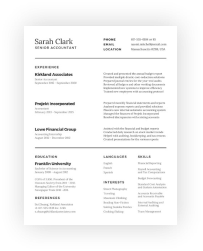 Free Education And Training Resume Templates for Industry Professionals
Browse templates and job-specific examples of professional education and training resumes.
How To Mention Your Vocational Training Experience
The two biggest tips you can take from our vocational training resume templates is to use the same language the company does and to avoid creating a resume with boring, overused phrases like "responsible for." Mirroring keywords used in the job description and starting each bullet point with a strong action word is more favorable for gaining and keeping the reader's attention.
• Assist young adults and adult students with developing their talents and finding ways to turn them into career goals
• Teach students skills related to searching for work, including how to fill out applications and good interview etiquette
• Administer vocational assessment tests to help clients learn which skills they are most adept at
• Provide technology lessons that range from basic computer use to advanced software, apps, and mobile technology
• Find job leads in the local community and provide them to individuals who are seeking employment
Vocational Training Resume Tips
Perusing our vocational training resume templates is a good start, but doing so will only take you so far. You must take other steps to strengthen your resume as well. These are important resume-writing tips to follow. Doing so may help you to stand out from other applicants.
1. Write a Powerful Summary Statement:
Instead of an outdated objective, write a summary that is up to six lines of text and includes your years of experience, about three major skill sets, and a couple of soft skills, such as relevant personality traits.
2. Personalize Your Vocational Training Resume:
The language in your resume should match the job description. If the company uses an industry acronym, you should, too. Edit your resume for each application to ensure it matches the job and doesn't seem irrelevant.
3. Use Specific Examples and Experiences:
Show the reader that you are unique. Mention achievements, awards, and contributions that prove you do your job well and take pride in it. Use quantifiable information when possible.