Resumes play a major role in your ability to get a new job. If you create a generic document, you may fail to impress hiring managers. You can use our engineering resume templates, which happen to be real-world examples, and writing tips to learn how to best craft this document. Start improving your resume today.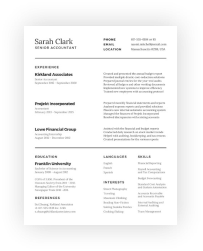 Free Engineering Resume Templates for Industry Professionals
See top-performing engineering resume templates to help you through the writing process.
Find the Perfect Engineering Resume Templates
Your resume affects your ability to impress hiring managers. If you write a weak, generic document, you won't get invited in for an interview. You need to create a strong document tailored to the job you want to get. Unfortunately, this isn't always easy to do.
It takes practice to know exactly what to include. Thankfully, you can use our writing tips and industry-specific templates for help. As you look over our engineering resume templates, you can see examples of how to discuss your skills, experiences, and accomplishments based on the job you want.
Below, you're going to find industry-specific resume templates based off real job titles. Engineering professionals wrote these examples; that means you know they go over important skills and industry requirements. As an engineer, you may want to focus on licenses, certifications, math skills, and education.
You can learn a lot as you look over these proven-successful examples. You learn how to emphasize the industry requirements you meet, you get ideas on how to point out your industry-based skills, and you see the importance of formatting and content. Make writing a standout resume easy by reading through the resume templates below.
Additional Popular Engineering Resume Templates
While the above job-specific templates can help you craft your own resume, you may still need help. You can find other engineering resume templates right here. The more templates you look at, the more inspiration you will have. Getting inspired can help you build a document that best meets your needs.
Additional Engineering Resources
: This engineering staffing firm gives industry-specific advice on how to impress employers.
: Learn more about sought-after skills, potential tasks, and important knowledge from this occupational guide.
: Find specific information about rate of employment, potential career trajectory, and related occupations from this federal agency.