An engaging resume packed with winning stats is the first step in your quest for interviews. Get your career on the right track with high-impact content. We offer real-life guidance from industry pros in our collection of entertainment and media resume templates. Are you ready to move forward?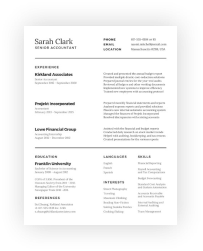 Free Entertainment and Media Resume Templates for Industry Professionals
Read through templates and job-specific tips for writing entertainment and media resumes.
Find the Perfect Entertainment and Media Resume Templates
Currently, the job outlook is bright for entertainment and media professionals. The U.S. Bureau of Labor Statistics expects job growth to increase faster than in other fields and reports that entertainment and media jobs pay more than others. The public loves movies, gaming activities, and similar activities, inspiring consistent growth in those fields. The BLS has information on positions such as directors, talent agents, and photographers.
With our entertainment and media resume templates as a guide, write your own resume that describes you as a rising star in your industry. A premium document gives potential employers' a preview of your winning qualities. This first impression could make or break your chances at getting an interview. Use the guidance we provide to show off your skills, experience, and credentials. With the right content, your resume could open doors to new chances.
We offer you the tools you need to select the right format for your document. Media and entertainment pros give advice about which skills and hard data to include in your resume. Whether you aim to become a media sensation for gaming, or you want to direct blockbusters, we have the templates for you and can help you decide the best course to take in your resume.
Additional Popular Entertainment and Media Resume Templates
Use our collection of entertainment and media resume templates to develop further insights into successful resumes. We've worked with industry experts to create real-world examples that provide inspiration and focus. We've done the research, so you can put yourself on display in the best light possible.
Additional Entertainment and Media Resources
Visit

for information about job listings, internship opportunities, and insights into this career field.
This article offers information about the best locations for careers in entertainment, media, and PR work.
Check out employment trends throughout the media and entertainment industry with this article. Learn more about which jobs are paying and where technology advances have expanded career opportunities.