Before you begin writing your resume, you need to have a good understanding of what employers hope to see. One of the primary purposes your resume serves is to communicate that you can complete your duties quickly and effectively. The position of cinematographer plays an essential role in the creation of film, serving as one of the most significant creative influences.
You can learn more about what makes a resume strong by taking a look at our cinematography resume template. This demonstrates the elements that hiring managers expect to see and the proper way to format the document so the information is as clear and accessible as possible.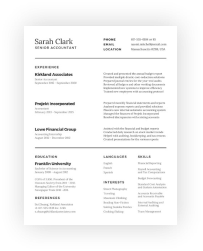 Free Entertainment And Media Resume Templates for Industry Professionals
Browse templates and job-specific examples of professional entertainment and media resumes.
How To Mention Your Cinematography Experience
The experience section is one of the most important parts of your resume. The primary purpose is to represent your past working experiences, but the way you present this information is just as important. The cinematography resume template demonstrates that you need action verbs to make this section even more effective.
• Operate camera equipment according to the director's instruction, capturing video of the highest quality possible
• Maintain current knowledge of all new cinematography techniques and practices as field professionals develop them
• Conduct live shoots, taking the environment into account and managing interior and exterior lighting elements
• Oversee the editing process, ensure that the film comes together correctly, and maintain the directing vision
• Collaborate with lighting directors, technical editors, camera operators, actors, and directors to produce usable shots
Cinematography Resume Tips
There are a few simple steps you can take to improve your resume as much as possible. Do not forget that one of the most important steps you can take is to review our cinematography resume templates before you begin writing in the first place. After you have done that, look to these guidelines:
1. Personalize Your Cinematography Resume: Take a look at the job description to see what aspects each unique hiring manager values most. You should include these aspects in your resume to personalize it.
2. Write a Powerful Summary Statement: The first section of your resume should be the summary statement. This is what forms the first impression employers have of you, so it should be a priority.
3. Use Specific Examples and Experiences: Using real examples is a good way to greatly strengthen your resume. It adds credibility and lets you communicate specific professional aspects of yourself.