Before you begin writing your resume, make sure you know exactly what you need to do. This document is a huge part of every job application, and it needs to accomplish certain things. After reading it, employers should be confident in your ability to work quickly and effectively. Not only that, but the way you format your resume influences its effectiveness as well.
Take a look at our director and producer resume templates. These real-world examples of strong resumes will help you strengthen your own as much as possible. Review a sample before you begin writing your own resume.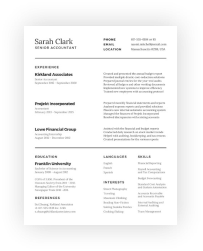 Free Entertainment And Media Resume Templates for Industry Professionals
Browse templates and job-specific examples of professional entertainment and media resumes.
How To Mention Your Director and Producer Experience
The director and producer resume templates reveals what you should include in your experience section, but you also need to know how to format this information. You should focus on including good action verbs and mirroring the language in the job description. Take a look at these strong example experience bullet points:
• Oversee production from the beginning of pre-production to the end of post-production, ensuring all elements meet expectation
• Review scripts, evaluating for necessary changes, making notes, and putting together documents for writers to review
• Oversee all spending, review cost predictions, and create a modest budget that saves as much money as possible
• Ensure all deadlines are always met on time and evaluate professionals' progress toward these deadlines
• Meet consistently with all department heads, including film directors, production designers, writers, and technical editors
Director and Producer Resume Tips
You can follow the director and producer resume templates to create a good resume, but if you want to create the kind of truly standout document that you need to catch the attention of employers, you need to do a bit more. Follow these steps to help you land a director and producer job.
1. Personalize Your Director and Producer Resume: Take a look at the job description. You should be able to find certain skills that appeal to the specific hiring manager. Use this information to personalize your resume.
2. Write a Powerful Summary Statement: Making a good first impression is important. By focusing on your summary statement, which is the first thing employers read in your resume, you can start off right.
3. Use Specific Examples and Experiences: Including real examples from previous jobs is not only a good way to add credibility, but it is a good opportunity to emphasize certain characteristics or professional traits.