As a production professional, you possess an impressive collection of technical proficiencies and expertise. Even so, you're competing against other skilled and qualified jobseekers for the same opportunities. How will a hiring manager know what you bring to the table if your resume doesn't deliver the right message?
Just as you help hone each project into a dynamic and powerful media piece, you must also craft your resume so that it quickly and convincingly demonstrates your worth as a candidate to potential employers. Use the examples and advice in our production resume templates to guide your document's creation from start to finish.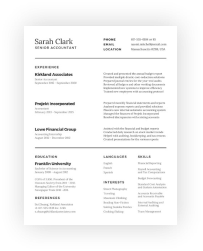 Free Entertainment And Media Resume Templates for Industry Professionals
Browse templates and job-specific examples of professional entertainment and media resumes.
How To Mention Your Production Experience
Every media production job requires unique proficiencies and expertise. For example, production assistants typically prepare a studio or set, manage operations during broadcast or taping, and may edit footage. As The Muse explains, powerful verbs liven up your prose and paint a clearer picture of your qualifications. You can learn to compose dynamic, job-relevant descriptions of your experience by reviewing our production resume templates:
• Oversee the operation of audio, camera, prompter, lighting, and other equipment during live broadcasts and tapings
• Plan studio and set workflows, working with and delegating responsibilities to other production staff
• Screen and edit footage segments or previously taped programs for later broadcast, social media sharing, and archival
• Organize broadcast and taping schedules to meet deadlines and balance the needs of production teams, programming staff, and the station
• Coordinate with and take direction from the production manager to ensure that staff meet high production quality standards and deadlines
Production Resume Tips
Our production resume templates provide helpful starting points as you compose and polish your resume. You may also find this TV production assistant resume sample as a useful model for your own document. Meanwhile, you can take your version to the next level by following some smart best practices.
1. Personalize Your Production Resume:
Customize your document for every new job application. Scan each job advertisement, look for keywords mentioned by the employer that match your own qualifications, and then integrate these into your text.
2. Write a Powerful Summary Statement:
Summary statements have mostly replaced the older objective statement as the preferred method for opening a resume. Compose an attention-grabbing three-sentence professional branding blurb that sums up your most relevant career selling points.
3. Use Specific Examples and Experiences:
Nothing attracts a recruiter's interest more than examples that show how you can add value to an organization. Use your work history to call out stellar achievements and back them up with metrics whenever possible.