According to the Bureau of Labor Statistics, jobs for publicity and media professionals may grow by up to 9% until 2026. That's faster than average for most professions. While it could translate into more opportunities, it also could mean you'll face more competition with other jobseekers.
Standing out from the crowd is imperative. Statistically speaking, you only have six seconds to make a strong impression on recruiters with your resume. Turn to our public relations and publicity resume templates to learn how to put your qualifications front and center and convince hiring managers to give you a second look — and an interview.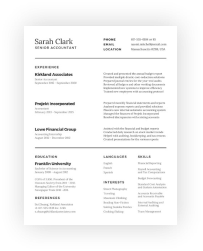 Free Entertainment And Media Resume Templates for Industry Professionals
Browse templates and job-specific examples of professional entertainment and media resumes.
How To Mention Your Public Relations and Publicity Experience
Professionals in your field focus on cultivating and maintaining positive images for their organizations. Just as you'd carefully craft targeted and persuasive messages to shape the public's perception of a brand, you must adopt the same tactics for your resume. Review our public relations and publicity resume templates for examples of how to dynamically describe your public relations experience:
• Compose press releases, social media and website content, and other communications on behalf of the organization
• Develop and execute an organizational communications strategy that focuses on positive image promotion and a strong brand identity
• Correspond with media contacts and respond to inquiries from news organizations, journalists, and the public
• Coordinate with marketing and advertising staff, ensuring that individual advertisements and campaigns align with the organization's brand standards
• Monitor response to social media, press releases, and advertising by analyzing data and comments from the public
Public Relations and Publicity Resume Tips
Study our public relations and publicity resume templates and learn essential practices for writing your resume. Resources such as this public relations resume sample are also helpful. While you're at it, review some tips for honing your prose into a document that makes a compelling case for your candidacy.
1. Personalize Your Public Relations and Publicity Resume:
Don't use the same version of your resume when applying to multiple jobs. Instead, create new editions with specifically tailored content that incorporates keywords from the job description.
2. Write a Powerful Summary Statement:
Your summary statement appears near the top of your resume. Use this as a critical advantage by composing a three-sentence blurb that markets your strongest skills, strategically selected based on the employer's desired qualifications.
3. Use Specific Examples and Experiences:
It's not enough to say that you "managed" or "handled" a key responsibility. Employers want to see your potential value, so play to this tendency by describing standout accomplishments with powerful verbs and quantifiable metrics.