Baking is both an art and a science, and a good resume captures the essential elements of both skill sets. A baker resume template can show you how to detail your skills, experience, and training so that you rise above the other candidates for the position you want.
Using the examples set by real-world professionals in the food and beverage industry, you can learn the best way to show your strengths to prospective employers. Learn the skills you need to build your resume in no time with these handy tools.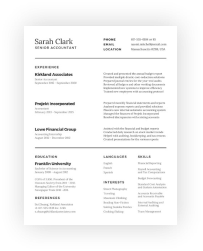 Free Food And Beverage Resume Templates for Industry Professionals
Browse templates and job-specific examples of professional food and beverage resumes.
How To Mention your Baker Experience
Product and presentation quality are essential to being a good baker. The professional baker must have an eye for detail, an understanding of food science, and time management skills to make sure that the product is both tasty and beautiful. Our baker resume templates teach you to phrase your experience in a way that won't fall under the heat of critique:
• Budget for and purchase bulk raw materials for the bakery's production needs
• Maintain supply inventory and replenish when needed
• Comply with food handling and safety standards set by local, state, and federal agencies to ensure the safety of customers who consume baked goods
• Produce consistent, quality pastries per the bakery's specific guidelines and expectations
• Communicate effectively and efficiently with counter staff, bussers, managers, and kitchen employees
Baker Resume Tips
The resume samples on LiveCareer demonstrate some of the same techniques for accentuating skill sets as the baker resume templates. Following these examples and our tips can help you create a great document of your own.
1. Personalize Your Baker Resume:
Every job description includes a few noticeable keywords that make it unique. Sprinkling those keywords throughout your resume can make you and your experience seem unique, too.
2. Write a Powerful Summary Statement:
The first thing recruiters see when picking up your resume is your professional summary. Since many employers only give each resume an average of six seconds before moving on, it is imperative that your summary statement shines.
3. Use Specific Examples and Experiences:
Your experience section is another place you can set yourself apart. Rather than merely listing tasks, find a way to quantify or personalize your experience so that it gives a richer picture of your time at each job.