A good barista can set a positive tone for a customer's whole day by delivering a jolt of java with a smile. Pore over our barista and café worker resume templates to learn how to showcase your exemplary pour-over skills, your customer service prowess, and your café experience.
For a more linear approach to resume construction, you can use the resume builder to create a great resume quickly. We offer several tools to help you stand out in the employment pool and get the job you want.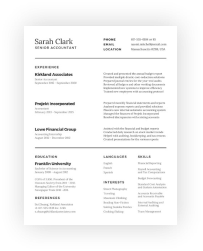 Free Food And Beverage Resume Templates for Industry Professionals
Browse templates and job-specific examples of professional food and beverage resumes.
How To Mention your Barista and Café Worker Experience
The increasing demand for hand-crafted specialty coffee ensures a significant growth in the availability of barista and café worker positions. The pursuit of excellence, however, also makes it a very competitive job market. The barista and café worker resume templates show how to let your most exceptional traits jump off the page:
• Foster good customer relationships through friendly greeting, efficient service, and quality drink production
• Tailor each customer's order to his or her precise specifications to achieve high standard of service set by management
• Maintain clean work area and attractive displays on counter and throughout café
• Handle sales and cash responsibly, and keep accurate sales records
• Comply with all safety regulations, and attend mandatory safety training to stay current on state and federal policies
Barista and Café Worker Resume Tips
When you write your resume, the barista and café worker resume templates can help you make sure you're not leaving anything out that you need to mention. Furthermore, it's a good idea to take these tips under advisement:
1. Personalize your Barista and Café Worker Resume:
While there are some common elements to different café positions, each one is going to have certain elements that make it special. Use the keywords you find in the job description to tailor your resume to the specific position you want.
2. Write a Powerful Summary Statement:
Your summary statement should give prospective employers a clear picture of who you are as a barista. Check out the resume examples to get a good sense of what your summary statement should say.
3. Use Specific Examples and Experiences:
When you work in customer service, you end up with plenty of stories and anecdotes to tell. Use positive stories to your advantage to make your resume unique.