A successful butcher and meat processor displays a high level of proficiency in various meat-cutting and processing techniques. This job also involves teamwork and customer service, so interpersonal skills count for a lot.
Use your resume to convince employers you will be an asset to the workplace by including a comprehensive work history and listing relevant skills. Employers also look for certifications and knowledge of the appropriate safety and health protocols. Find a butcher and meat processing resume template from a professional with similar qualifications to your own and learn how to develop the right approach for your submission.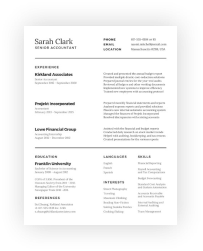 Free Food And Beverage Resume Templates for Industry Professionals
Browse templates and job-specific examples of professional food and beverage resumes.
How To Mention Your Butcher and Meat Processing Experience
How you present information can matter at least as much as its substance. Even experienced professionals can short-change themselves if they use boring, generic phrases and leave out important details.
Butchers perform various essential tasks to ensure customers receive a safe, high-quality product. Our butcher and meat processing resume templates demonstrate several dynamic words to describe your experience:
• Receive meat products and inspect them to ensure proper quality; maintain regular meat inventory
• Cut, trim, filet, prepare, and package various cuts of poultry and meat according to store standards or customers' special requests
• Ensure proper maintenance and cleanliness of all butchering equipment
• Train and supervise team members in the butcher department; work with store manager to set schedules
• Ensure departmental compliance with relevant health and safety standards; report and document concerns as necessary
Butcher and Meat Processing Resume Tips
After reviewing our butcher and meat processing resume templates, it is now up to you to apply what you have learned and use the right techniques to compose your own resume. The following tips explain some easy ways to upgrade your resume and help it stand out.
1. Personalize Your Butcher and Meat Processing Resume:
Look to the job posting for clues as to specific employers needs. Adapting your resume to mirror phrases from each posting can help you stand out as a top candidate.
2. Write a Powerful Summary Statement:
This section is the most likely to leap to a hiring manager's attention, so make it count. List your most important and relevant attributes while avoiding filler words or vague terms.
3. Use Specific Examples and Experiences:
If you do not give employers the information they need, they will not look further. Do not just tell employers you worked in the meat department; instead, describe what you did, from technical work to customer interactions.