Whether your target job involves operating a concession stand or refreshment counter, you need to emphasize certain key skills. Draw attention to valuable food preparation and customer service qualifications in your personal summary, work experience, and skills sections. When you put effort into your resume, employers notice and see it as a demonstration of important skills such as attention to detail.
Perusing our concession and refreshment resume templates can give you an idea of which skills and experiences should get top billing. In addition, high-quality templates show you how to use the right language to create informative and effective descriptions.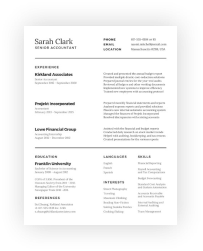 Free Food And Beverage Resume Templates for Industry Professionals
Browse templates and job-specific examples of professional food and beverage resumes.
How To Mention Your Concession and Refreshment Experience
Your work experience is an important section of your resume that provides employers with key information. Specific, active verbs not only make your resume more interesting to read, but also provide valuable detail.
Concession and refreshment workers perform a variety of functions. These sample entries, along with those on our concession and refreshment resume templates, show how to craft descriptions with the right amount of information:
• Make sandwiches to order, assemble plates, and serve ready-made items as per standard instructions
• Ensure optimal temperature for foods and beverages at all times; immediately report and document equipment malfunction
• Take orders, serve customers, and use cash register to prepare bills and make change
• Maintain cleanliness and sanitization of counter and food preparation area throughout the day; maintain inventory of cleaning supplies
• Work with team members to ensure appropriate coverage at all times
Concession and Refreshment Resume Tips
While our concession and refreshment resume templates come from professionals with a wide variety of qualifications and backgrounds, they all excel by using vital writing techniques. Fortunately, whether you are a first-time applicant or a seasoned worker, you can easily incorporate these simple rules as you compose your own resume.
1. Personalize Your Concession and Refreshment Resume:
One size does not fit all when your livelihood is on the line. Tweaking your resume to reflect an employer's priorities and preferred phrasing is a great way to stand out from the crowd.
2. Write a Powerful Summary Statement:
The first 20 words of your resume can make or break your application. Improve your chances by crafting a summary statement that clearly states what makes you an outstanding candidate.
3. Use Specific Examples and Experiences:
Rather than stating you sold refreshments, show employers you understand the variety of actions that go into doing this successfully. Don't forget to include workplace awards and performance metrics.