Employment as a grocery worker requires the ability to organize, prioritize, and interact with customers in a friendly manner. A truly effective submission can convey your hardworking and professional demeanor in addition to detailing your skills and work history. Our selection of grocery resume templates includes documents uploaded by users working in the field, giving you real-world examples from which to learn. We also offer resources such as formatting and writing techniques to help you craft a resume that allows you to shine.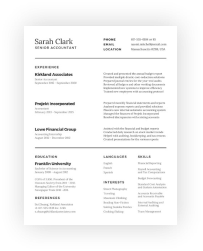 Free Food And Beverage Resume Templates for Industry Professionals
Browse templates and job-specific examples of professional food and beverage resumes.
How To Mention Your Grocery Experience
A resume is your introduction to a potential employer. As such, the way you deliver your information is just as important as the details you choose to include. Two great writing tips to achieve your desired effect are to include words from the job ad and to choose strong action words. You can find these tips illustrated in many of our grocery resume templates:
• Receive order shipment, organize and move incoming merchandise, unpack items and examine for quality, remove any damaged items
• Utilize software to automatically or manually record received shipments, notating any damaged goods, inaccuracies, or inconsistencies
• Mark shipments for delivery to appropriate department, communicate with department regarding pricing or signage accuracy
• Support other employees within store by working as cashier or bagger when necessary, maintain knowledge of store and corporate policy
• Provide excellent customer service, maintain knowledge of products and promotions, answer questions with a friendly demeanor
Grocery Resume Tips
These grocery resume templates are valuable resources to see helpful tips in action. In addition to their format and word choice examples, you can also find models of the following advice to create a strong and unique resume:
1. Personalize Your Grocery Resume: Make sure you tailor your submission with each new application, rather than using a cookie-cutter document. Include keywords from the ad to indicate that you understand what the employer is looking for in an applicant.
2. Write a Powerful Summary Statement: You have roughly six seconds to impress hiring managers, which is the average time they spend looking at each resume. You need to show your qualifications quickly, and the summary statement is a great place to do so.
3. Use Specific Examples and Experiences: This is a classic opportunity to "show, not tell." Illustrate your abilities by detailing actual events from your work history, such as when you resolved a problem or went above and beyond to help a customer.