You know that the keys to being an excellent server include interacting well with guests and delivering orders quickly and efficiently. Focus your resume on these vital skills to impress a hiring manager and show him or her you have everything it takes to succeed.
Simply listing your restaurant experience on your document isn't enough. You need to organize your information well and understand how to write a resume in a confident and engaging manner. Utilize our real-world waiter and server resume templates and expert advice to craft your own effective document.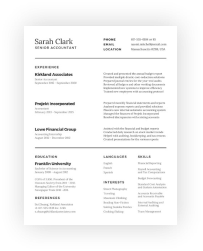 Free Food And Beverage Resume Templates for Industry Professionals
Browse templates and job-specific examples of professional food and beverage resumes.
How To Mention Your Waiter and Server Experience
Including your experience as a restaurant server on your resume is about more than just adding in the right information; you need to describe it in a way that convinces a hiring manager you can succeed. You can upgrade your writing by incorporating strong action words, like those in our waiter and server resume templates. Pull terms from the job listing, and take note of these examples:
• Communicate effectively with customers, answering questions about the menu, describing daily specials, and taking food and beverage orders
• Provide suggestions to patrons based on their questions and special requests relating to food allergies and dietary restrictions
• Relay food and drink order information accurately to the kitchen staff and enter details into the POS system
• Deliver food to customers quickly and efficiently, taking care to serve all patrons at each table together
• Prepare complete itemized checks for each table (splitting tables into separate checks when necessary) and process payments
Waiter and Server Resume Tips
After reviewing the formatting and content of the waiter and server resume templates, you can start perfecting your own document. Strengthen your resume by turning your work history duties into accomplishments. Follow these simple steps to take your document to the next level.
1. Personalize Your Waiter and Server Resume:
Don't just submit a generic resume for each application. Instead, tailor the language and focus of your document to match closely with the job description.
2. Write a Powerful Summary Statement:
Most hiring managers only skim through resumes, so you need to make an impact right away. Start your document with a bold and confident pitch describing why you're the ideal candidate.
3. Use Specific Examples and Experiences:
To impress a hiring manager, you need to help him or her understand all the benefits you'd bring to the restaurant. Include some brief stories of your previous career accomplishments to showcase your value.