A well-crafted resume will help you secure the job you want in funerary and mortician services. Increase your chances of success by customizing your document to a specific job description. We provide you with expert advice and a collection of professional funeral services resume templates.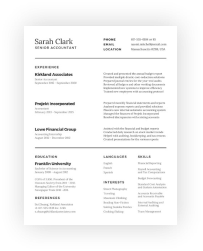 Free Funeral Services Resume Templates for Industry Professionals
Review top funeral services industry templates and examples of professional resumes.
Find the Perfect Funeral Services Resume Templates
The Bureau of Labor Statistics expects the number of funeral services workers to grow by 5% from 2016 to 2026. That's about the same speed as the average for all occupations. Therefore, competition for jobs in the field will remain strong. The BLS expects licensed funeral directors and embalmers to enjoy the best job opportunities, as well as those workers in the field who are willing to relocate.
Your resume is your first impression on hiring managers. To help you create the best possible, we offer you funeral services resume templates for morticians, funeral directors, and embalmers. A resume is much more than a formality of the interview and hiring process. It's a powerful tool that can position you for the job you want. The key to success is to customize your resume to the advertised job.
We give you guidance on the industry requirements and skills to include in your resume. Select the template that best fits your needs. Use it as a touchstone as you craft your document. Each template gives you the insight and ideas you need to create a stellar resume.
Mortician Resume Template
Morticians typically perform a variety of tasks during their workday. From arranging funeral services to providing transportation for mourners and selecting pallbearers, they must have a wide range of skills and knowledge. Customer service and communication skills are key. Include examples of your prowess in these areas. Also, demonstrate your organizational and clerical acumen, as well as your proficiency with spreadsheet and database software. In short, show hiring managers you have the skills to enhance their business services.
Want a few more ideas? Browse mortician resume samples or turn to our funeral services resume templates.
Funeral Director Template
Customer and personal service is critical in the death care industry. Funeral directors must have impeccable social skills and perceptiveness. Therefore, make sure you present yourself as an empathetic professional. Give examples of your skill in assisting people through stressful times. Emphasize your leadership and organizational qualities and your knowledge of psychology, counseling, and administration and management.Funeral directors spend much of their work day interacting with people or communicating by phone or email. Demonstrate your excellent active listening and speaking skills. Take a look at our funeral services resume templates for additional ideas on the information to include in your document.
Embalmer Template
Knowledge of biology, chemistry, and anatomical processes is critical to the work of embalmers. Their professional activities range from preparing and embalming bodies to cleaning and stocking the mortuary. Embalmers must receive training and education from an accredited mortician school. Therefore, include your credentials in your resume. Also, show you stay up to date on equipment, technologies, and health and sanitation laws.It's a good idea to provide evidence of your decision-making and problem-solving skills, too. Much of embalmers' work is dependent on these abilities. Refer to our funeral services resume templates for ideas on how to present this information in your document.
Additional Funeral Services Resources
: A federal agency, the BLS provides detailed, up-to-date information on workers' job outlook, work environment, compensation, and more. Get the information you need to further your funeral services career.
: From job searches in the United States and beyond to featured jobs and employers, the NFDA's Career Center provides a host of resources to help you as you follow your funeral services career path.
: O*Net Online offers information on the skills, knowledge, work activities, and abilities associated with more than 900 occupations, including mortician, undertaker, and funeral director. Human resources professionals, students, and jobseekers use this valuable resource.