A well-crafted resume will help you secure the job you want in funerary and mortician services. Increase your chances of success by customizing your document to a specific job description. We provide you with expert advice and a collection of professional funeral services resume templates.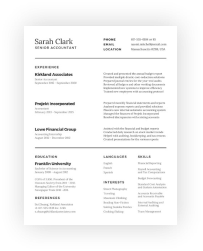 Free Funeral Services Resume Templates for Industry Professionals
Review top funeral services industry templates and examples of professional resumes.
Find the Perfect Funeral Services Resume Templates
The Bureau of Labor Statistics expects the number of funeral services workers to grow by 5% from 2016 to 2026. That's about the same speed as the average for all occupations. Therefore, competition for jobs in the field will remain strong. The BLS expects licensed funeral directors and embalmers to enjoy the best job opportunities, as well as those workers in the field who are willing to relocate.
Your resume is your first impression on hiring managers. To help you create the best possible, we offer you funeral services resume templates for morticians, funeral directors, and embalmers. A resume is much more than a formality of the interview and hiring process. It's a powerful tool that can position you for the job you want. The key to success is to customize your resume to the advertised job.
We give you guidance on the industry requirements and skills to include in your resume. Select the template that best fits your needs. Use it as a touchstone as you craft your document. Each template gives you the insight and ideas you need to create a stellar resume.
Additional Funeral Services Resources
Bureau of Labor Statistics: A federal agency, the BLS provides detailed, up-to-date information on workers' job outlook, work environment, compensation, and more. Get the information you need to further your funeral services career.

National Funeral Directors Association's Funeral Career Center: From job searches in the United States and beyond to featured jobs and employers, the NFDA's Career Center provides a host of resources to help you as you follow your funeral services career path.

O*Net OnLine: O*Net Online offers information on the skills, knowledge, work activities, and abilities associated with more than 900 occupations, including mortician, undertaker, and funeral director. Human resources professionals, students, and jobseekers use this valuable resource.