Specialized training and experience qualify applicants to work in the field of criminal justice. Find out how to represent your background, ethics, and knowledge in a conventional resume format. We show jobseekers how to approach each of the major resume sections and bring up several career-specific considerations to keep in mind when applying for jobs in this industry,
You can get a better sense of what employers expect to find in a resume for a criminal justice position from the writing pointers below. You may also benefit from looking over a variety of criminal justice resume templates by qualified candidates.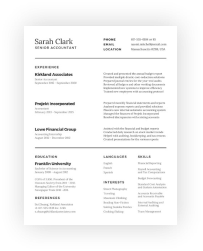 Free Government Resume Templates for Industry Professionals
Browse templates and job-specific examples of professional government resumes.
How To Mention Your Criminal Justice Experience
Most jobseekers in criminal justice have specialized vocational or on-the-job training. Make a case for your ability to succeed by using keywords from the description of the position you want. Action words can also show the difference you will make on the job. Refer to the following sample responsibilities and the experience sections on our criminal justice resume templates as you prepare to write your resume:
• Investigate and gather information about crimes or violations, and provide this data to relevant authorities
• Maintain records for ongoing investigations or persons of interest within the jurisdiction of an agency
• Apprehend or surveil suspects to ensure they are available to be duly tried and charged
• Enforce the law in the rightful capacity for a particular criminal justice position or agency
• Prosecute individuals accused of crimes depending on their pleas and the verdicts returned by juries
Criminal Justice Resume Tips
One of the best methods for identifying ways to improve your resume is to compare your draft to several criminal justice resume templates. Our collection includes materials by real jobseekers in this field. There are also three tips you can follow to strengthen all of the major resume sections.
1. Personalize Your Criminal Justice Resume:
Your resume should give employers a clear sense of your particular skills and professional strengths. Customize your summary statement, list of skills, and work history for each job you seek.
2. Write a Powerful Summary Statement:
A summary statement is your first chance to bring up your major qualifications. Get employers' attention by showcasing your experience and the most important skills for the position you want.
3. Use Specific Examples and Experiences:
Be specific about your accomplishments to make your document stand out. Look for ways to include metrics, statistics, or particular incidents to demonstrate your ability to succeed in criminal justice.