Writing a resume is not usually fun, but it is necessary if you want to find new employment. Just as you need to possess organization and communication skills when working in a post office, your resume needs to have content and a format that clearly communicates to hiring managers your talents for performing all of the duties vital to such a role.
If you typically dread the resume-writing process, you are in luck. Our library of numerous real-world post office resume templates and accompanying guidelines can help you with this task. Use these resources to increase your chances of landing the job you want.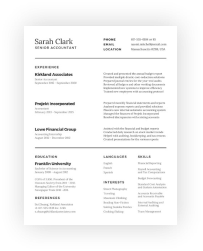 Free Government Resume Templates for Industry Professionals
Browse templates and job-specific examples of professional government resumes.
How To Mention Your Post Office Experience
Post office workers must be able to juggle many tasks, such as sorting through mail, estimating shipping costs, and assisting customers. Using our post office resume templates as a starting point, create a work experience section consisting of industry language and strong action verbs that communicate such abilities to employers. This demonstrates your ability to efficiently perform the various duties of the job in question.
• Maintain knowledge of postal rates, distribution methods, and packaging options to assist customers with inquiries
• Implement innovative sorting practices to sort through mail and parcels in an efficient and accurate manner
• Assist and monitor the daily operations of both the mail room and customer service counter
• Recommend to customers the best post office products and service features for their particular needs
• Compute correct costs of parcels and letters by determining their weight, packaging type, and destination
Post Office Resume Tips
Our post office resume templates and these 18 tips can show you what warrants a standout resume. Use them for guidance concerning your word choice, format, fonts, and more. Additionally, to ensure your document leaves a lasting impression on employers, remember to incorporate the following steps into your writing process:
1. Personalize Your Post Office Resume:
Have a master resume that includes all of your qualifications, but always personalize it so it relates to the specific position you want. Emphasize proficiencies, responsibilities, and keywords you find in the job listing.
2. Write a Powerful Summary Statement:
An employer may only spend a few seconds scanning your resume, so this section must present a convincing case for your candidacy. Show managers how their company can benefit from hiring you.
3. Use Specific Examples and Experiences:
Generic descriptions are unimpressive. Write instead about specific situations in which you succeeded in prior roles through your relevant knowledge and skills. Strengthen your examples with descriptive language and metrics.