Have you ever wondered what it takes to get a green job? There are tons of opportunities, from entry to post-graduate level. Once you've searched the job listings and are ready to apply, use our green jobs resume templates to get your bearings. You'll find real examples written by industry professionals.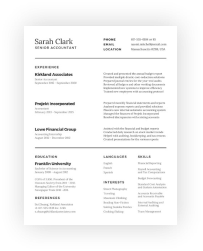 Free Green Jobs Resume Templates for Industry Professionals
Looking for eco-friendly jobs? Use our professional green jobs resume templates for free!
Find the Perfect Green Jobs Resume Templates
There are opportunities for employment and advancement in green jobs throughout many industries and sectors. The Bureau of Labor Statistics projects strong job growth across occupations that focus on the environment. It's a good field to be in, whether you're looking for an entry-level position or have a relevant degree, but you need to create a strong resume to stand out from the competition.
Our real-life green jobs resume templates, written by industry professionals, can help, and so will this writing guide. The first rule of resume-writing is to always tailor your resume to each job you're applying for. Even if two job postings sound similar or have identical titles, customize your resume for each organization. When you're deciding which skills and abilities to emphasize, first find out what traits are most valued in your field.
Next, read the job description again and look for keywords. The best place to find keywords to use in your resume is the required qualifications section. Does the ad mention specific software or technical skills? What about soft skills, such as communication and leadership ability? Make a note of the exact wording and work it into your resume wherever it applies. See the templates for more details to make your document shine.
Additional Popular Green Jobs Resume Templates
Our green jobs resume templates will help you get your resume organized. If you don't see the job you want in this list, search our other professionally written templates for more ideas. Other popular jobs in this field are environmental remediation, green marketing, and park interpreter.
Additional Green Jobs Resources
The Bureau of Labor Statistics

has a

about green jobs. It includes employment projections, careers in various industries, and specific occupations.
lists the top 20 green jobs with links to more information.

The Association for the Advancement of Sustainability

in Higher Education's

displays green job opportunities in higher education.