Your resume needs to reflect the hard work you put into becoming a dentist, which is why we have compiled these dentistry resume templates. Our templates, examples, and tips provide the help you need to make the best resume you can. When your resume looks organized and engaging, hiring managers will spend more time looking at it, which improves your chances of an interview.
Find out how to explain your experience and create a unique resume that is also professional. This information is all meant to help you create a great resume in a few minutes.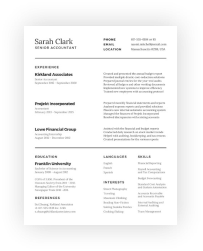 Free Healthcare Resume Templates for Industry Professionals
Browse templates and job-specific examples of professional healthcare resumes.
How To Mention Your Dentistry Experience
How you phrase your dentistry experience is almost as important as the experience itself. Your resume needs to stand out in the crowd, and our dentistry resume templates show you how to do it. There are also engaging ways you can write your experience, such as:
• Identify dental issues on an x-ray, and present options to patients with detailed answers to any questions
• Present preventative care techniques to school children and their parents that promote general and dental wellness
• Communicate with patients about possible complicating factors, and get feedback about any medical conditions they have
• Operate on patients to prevent further damage due to impacted molars or other tooth misalignments
• Supervise level of care provided by office staff, and offer help, advice, or correction as needed
Dentistry Resume Tips
With a dentistry resume template, you increase the chances a recruiter views your resume favorably. Templates are a good way to make your resume professional, but there are other steps you can take to make your resume really shine.
1. Personalize Your Dentistry Resume:
Templates can only take you so far, and you should expect to add personal skills and work history information. Added personal touches can come from the job posting itself to show how well qualified you are for the job you want.
2. Write a Powerful Summary Statement:
Since recruiters only spend a few seconds looking at each resume that crosses their desk, you want your summary to jump off the page and prompt them to read further. Use industry-specific actions words to add punch to your summary.
3. Use Specific Examples and Experiences:
When your work experience reads more like a job description, it can be boring. When you include specific work examples, you look like a better job candidate and increase your chances of getting an interview.