To successfully work in diet and nutrition, you learned a lot about health and quality when it comes to food. The quality of your resume impacts how easy it is for you to get a job, which is why these diet and nutrition resume templates are so useful. Real jobseekers created these resumes, and you'll find tips for writing and organizing your own document here.
With the right format and information, your resume stands out quickly to recruiters and hiring managers. Here are some ways to draw attention to your value as an employee in every section of your resume.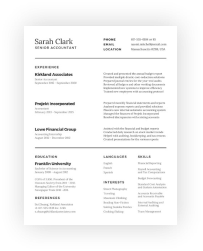 Free Healthcare Resume Templates for Industry Professionals
Browse templates and job-specific examples of professional healthcare resumes.
How To Mention Your Diet and Nutrition Experience
Keeping your resume interesting helps ensure a hiring manager will keep reading, which is why the wording you choose for everything in your resume is important. Our diet and nutrition resume templates help get you started, and you can also learn how to make anything boring in your work history sound more exciting. Here are five more examples of ways to describe your diet and nutrition experience:
• Present and explain dietary requirements with meal examples, and answer questions from patients about possible substitutions
• Review bloodwork results, note anomalies, and coordinate with other caregivers to diagnose and treat nutrient deficiencies
• Active participant in community endeavors to create a healthy, thriving population of adults and children
• Tailor diet plans for patients with medical conditions, such as diabetes, hypertension, cystic fibrosis, and cancer
• Provide emotional support to family members struggling to care for loved one during metabolic treatment
Diet and Nutrition Resume Tips
Using diet and nutrition resume examples to inspire or build your document is a good start. There are some other important steps to take to ensure your resume is not passed over during the initial review phase.
1. Personalize Your Diet and Nutrition Resume: Starting with a diet and nutrition template for your resume ensures your document is professional, but adding specific information to each job description makes it uniquely yours. You should also tailor your resume by reviewing the job posting.
2. Write a Powerful Summary Statement: Your summary statement is at the top of your resume and needs to grab a recruiter's attention from the start. Do this by including action words, verbiage from the job posting, and the skills you have that qualify you for the job you want.
3. Use Specific Examples and Experiences: Your resume stands out when you use specific examples unique to your work experience. This can include using metrics to spotlight how well you completed a specific task or handled customer interactions.