As a jobseeker, you know how important your resume is. This document needs to communicate your ability to perform the job you desire quickly and effectively. Our medical and lab technician resume templates can show you how to make this information as clear as possible. We have information to help jobseekers pursuing a medical and lab technician position specifically. This resume writing guide shows you everything you need to know, including what information to incorporate, how to structure your resume, and what makes the document especially eye-catching. With our help, you can greatly improve your chances of landing the job.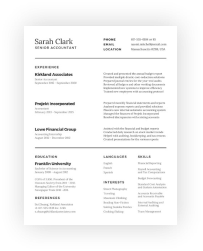 Free Healthcare Resume Templates for Industry Professionals
Browse templates and job-specific examples of professional healthcare resumes.
How To Mention Your Medical and Lab Technician Experience
You should focus on the experience section of your resume, but on top of that, you should also focus on how you present this information. Using strong action verbs and imitating the language of the job description makes it stronger. Be sure to review our medical and lab technician resume templates for more information.
• Conduct research and assist with all manner of lab experiments and tests to gather information
• Maintain, clean, and repair all lab equipment, and take maintenance precautions to prevent unnecessary damage
• Complete lab reports that compiled test results and information, as well as documentation of supplies used
• Prepare specimens or samples for experiments, taking measures to avoid contamination or any other compromising effects
• Train new lab technicians and lab assistants, providing information and instruction on proper lab procedure
Medical and Lab Technician Resume Tips
Before you begin writing your resume, take a look at these steps. If you follow these strategies, you can strengthen your resume and make it more effective than it would otherwise be. They may seem simple, but many jobseekers fail to take these steps, and their resumes suffer for it.
1. Personalize Your Medical and Lab Technician Resume:
A customized resume almost always does better than a generic one. Look at the job description to discover what unique aspects each employer values.
2. Write a Powerful Summary Statement:
The summary statement affects your first impression because it is the first section of the document. Check our medical and lab technician resume templates to see a strong summary statement.
3. Use Specific Examples and Experiences:
Simply including real and specific examples from your professional experience greatly strengthens your resume. Think about what specific aspects you want to communicate about yourself.