Communication skills are vital to success as a speech pathologist or audiologist. To get the chance to demonstrate your oral communication abilities to a hiring manager in an interview, you must first wow a reader with the written communication skills on your resume. Use our speech pathology and audiology resume templates to make a resume with a strategic format and carefully chosen information that can convince a recruiter that you deserve an interview.
With templates from professional contributors and examples from real-world jobseekers, our resources can show you how to quickly write a quality resume that stands out.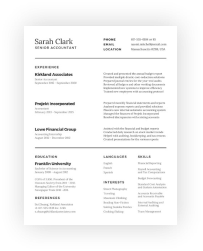 Free Healthcare Resume Templates for Industry Professionals
Browse templates and job-specific examples of professional healthcare resumes.
How To Mention Your Speech Pathology and Audiology Experience
Your years of education or experience might not convince a hiring manager of your worth if you don't use excellent written communication to describe them on your resume, like the writers of our speech pathology and audiology resume templates. Because speech pathologists and audiologists need outstanding communication skills, it is important to understand how you present the information on your resume is just as vital as the information itself. Use action words and use the same phrasing you see in the job listing to help.
• Assess and diagnose disorders involving speech, voice, language, and fluency to determine the best method of treatment
• Design and establish individual treatment plans for a variety of disorders and adjust or reprioritize as necessary
• Write reports and maintain documentation on patients' progress, treatment plans, medical records, and caseload activities
• Use specialized equipment and instruments to perform hearing tests and determine the level and type of impairment
• Evaluate test results for multiple types of speech or hearing tests to ascertain necessary treatment or degree of progress
Speech Pathology and Audiology Resume Tips
Following these easy tips in addition to using our speech pathology and audiology resume templates can quickly make your resume better. Use them to understand what hiring managers look for on a resume, how to make your document more appealing, and how to have an advantage over other candidates.
1. Personalize Your Speech Pathology and Audiology Resume:
A recruiter glances at a resume to look for relevant information and specific keywords. To encourage a reader to continue perusing your resume, include information and keywords listed in the job description.
2. Write a Powerful Summary Statement:
Sometimes the only section of a resume a hiring manager reads is the summary statement. This means it is crucial to make yours as strong and convincing as possible to entice your reader.
3. Use Specific Examples and Experiences:
Just listing duties can bore your reader. Instead, catch a hiring manager's attention with details of the difference you've been able to make in people's lives and the impact you had at previous jobs.